Komodo vs. Cobra
(2005)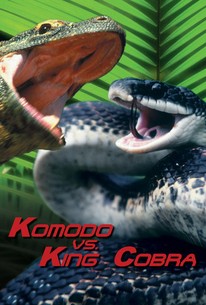 AUDIENCE SCORE
Critic Consensus: No consensus yet.
Movie Info
When a scientific experiment gone horribly awry unleashes a terrifying creature on the unsuspecting population of a South Seas paradise, both the scientists and the people who tried to stop them are forced to face off against a beast with an insatiable appetite for human flesh in an action packed shocker starring Michael Paré and Jerri Manthey.
Critic Reviews for Komodo vs. Cobra
There are no critic reviews yet for Komodo vs. Cobra. Keep checking Rotten Tomatoes for updates!
Audience Reviews for Komodo vs. Cobra
½
This television film is directed by Jim Wynorski, and it's a sequel to his 2004 film Curse of the Komodo, with several similar elements : experiment gone wrong, father-daughter team, government attempt to bomb things, the ending, komodo's behaviours, etc. The lame story starts when a team of environmentalists, including a reporter, her camera man, and an environmentalist's famous girlfriend charter a boat and with the captain, sail to a military island. They suspect the island is a place for US government illegal experiments. Upon arrival, however, they find no one but they finally find Dr. Susan Richardson, who tells them that everyone on the island is dead, including her father. Richardson's team were working on a compound that could make edible plants grow to super size, however the military intervened with plans of their own. They wanted to test the compound's effects on animals, and proceeded to feed it to several komodo dragons and cobras. This is just a bad B movie - from screenplay, through directing, special effects, and especially acting! Michael Paré as Mike A. Stoddard, Ryan McTavish as Jerry Ryanm, Renee Talbert as Carrie, Jerri Manthey as Sandra, Michelle Borth as Dr. Susan Richardson, Ted Monte as Ted, Glori-Anne Gilbert as Darla. Rene Rivera as Dirk, Jay Richardson as Dr. Richardson, Rod McCary as General Bradley, Roark Critchlow as Major Garber and Paul Logan as Major Frank had no idea what were they doing! So many names without a real actor being between them... unbelievably untalented bunch! Everything in this movie could be described with one word: pathetic. Please, don't waste time on this, not worth a minute of your time.
I am actually not "Gigantic and Mutates" Movie Fan but this was very interesting. My fav bit was the very last Scene.
From the director of Busty Cops goto Hawaii
Ken Stachnik
Super Reviewer
Komodo vs. Cobra Quotes
There are no approved quotes yet for this movie.