Kong: Skull Island
(2017)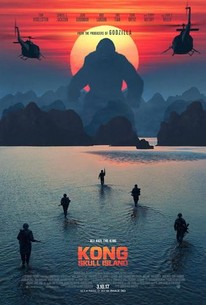 TOMATOMETER
AUDIENCE SCORE
Critic Consensus: Offering exhilarating eye candy, solid acting, and a fast-paced story, Kong: Skull Island earns its spot in the movie monster's mythos without ever matching up to the classic original.
Kong: Skull Island Videos
Kong: Skull Island Photos
Movie Info
Warner Bros. Pictures and Legendary Pictures' "Kong: Skull Island" reimagines the origin of the mythic Kong in a compelling, original adventure from director Jordan Vogt-Roberts ("The Kings of Summer"). In the film, a diverse team of explorers is brought together to venture deep into an uncharted island in the Pacific - as beautiful as it is treacherous - unaware that they're crossing into the domain of the mythic Kong. "Kong: Skull Island" stars Tom Hiddleston ("The Avengers," "Thor: The Dark World"), Samuel L. Jackson ("The Hateful Eight," "Avengers: Age of Ultron"), Oscar winner Brie Larson ("Room," "Trainwreck"), John Goodman ("Transformers: Age of Extinction," "Argo") and John C. Reilly ("Guardians of the Galaxy," "Step Brothers"). The international ensemble cast also includes Tian Jing ("Police Story: Lockdown"), Corey Hawkins ("Straight Outta Compton"), Jason Mitchell ("Straight Outta Compton"), John Ortiz ("Steve Jobs"), Thomas Mann ("Beautiful Creatures"), Shea Whigham ("The Wolf of Wall Street"), Toby Kebbell ("Dawn of the Planet of the Apes") and Eugene Cordero ("The Kings of Summer"). Vogt-Roberts is directing the film from a screenplay by Max Borenstein, John Gatins, Dan Gilroy and Derek Connolly. "Kong: Skull Island" is produced by Legendary's Thomas Tull and Jon Jashni with Mary Parent. The executive producers are Eric McLeod and Alex Garcia. The creative behind-the-scenes team includes director of photography Larry Fong ("Batman v Superman: Dawn of Justice"), production designer Stefan Dechant (supervising art director "True Grit," "Avatar"), editor Christian Wagner (the "Fast & Furious" films), and costume designer Mary Vogt (the "Men in Black" films). The team also includes Oscar-winning makeup supervisor Bill Corso ("Lemony Snicket's A Series of Unfortunate Events," "Star Wars: The Force Awakens") and supervising stunt coordinator George Cottle ("Interstellar," "The Dark Knight Rises"). The legendary Kong is being brought to life at a whole new scale by Industrial Light & Magic, with two-time Oscar winner Stephen Rosenbaum ("Avatar," "Forrest Gump") serving as visual effects supervisor. To fully immerse audiences in the mysterious Skull Island, director Jordan Vogt-Roberts and his cast and filmmaking team are filming across three continents over six months, capturing its primordial landscapes on Oahu, Hawaii - where filming commenced on October 2015 - on Australia's Gold Coast, and finally in Vietnam, where filming will take place across multiple locations, some of which have never before been seen on film. Warner Bros. Pictures and Legendary Pictures Present a Legendary Pictures Production, "Kong: Skull Island." The film will be released worldwide in 2D, 3D in select theatres, and IMAX beginning March 10, 2017, from Warner Bros. Pictures, a Warner Bros. Entertainment Company.
News & Interviews for Kong: Skull Island
Critic Reviews for Kong: Skull Island
Audience Reviews for Kong: Skull Island
½
Ah a freshly rebooted monsterverse, no not that dark monsterverse...that's some other rebooted franchise wannabe. This is a different rebooted monsterverse from Legendary Entertainment, not to be confused with the multitude of other cinematic universe franchises, failing or otherwise (ugh!). As this is yet another reboot attempt Legendary and its director decided to go a slightly different route for this monster mash. That slightly different route was setting this movie in 1973 towards the end of the Vietnam War. Basically everything you'd expect to happen in a Kong movie happens here (bunch of military and scientist types go to explore mystery island, find monsters, double cross, fight for survival etc...), but its in 1973 during Nam. Now I initially thought this was quite a neat idea because it was different, and because they did a really good job for the first half of the movie making it look like a Nam war flick (loved seeing all the retro gear). But dare I say that maybe, just maybe, they went a tad too far in trying to make this Nam element look as authentic as possible. As I've already said the movie does look great, they have recaptured the mood of many Nam flicks perfectly with the grubby visuals, presumably using a specific type of film to get that retro look or just fiddling with it in the edit. You could easily be mistaken for thinking you were watching a Nam flick from the 80's. All the regular Nam cliches and stereotypes are all present and correct with the soldiers and their goofing around, their personally modified military attire, their language, the sweeping camera moves to capture helicopters in flight, the way the soldiers ride their vehicles etc...It all looks really really good. Thing is I couldn't help but think to myself, this is a King Kong movie, not a Nam war movie. Are you trying to make a monster mash movie here or just recreate the Vietnam war era? This leads me to another little peeve of mine, the soundtrack. Again, I realise the movie was set during Nam, I realise the director and co were going for an authentic vibe, but Jesus Christ the constant music playing became annoying. Yes we get it, this is during the Vietnam war, you really [b]really[/b] didn't have to have the soldiers playing music for the start of every new scene. Overall I just thought they were trying a bit too hard with this section of the movie. Anyway, the Nam section comes to an end and we enter the meat of the movie. We reach the mysterious Skull Island that is shrouded by a massive swirling storm, keeping it hidden. OK so the storm has kept the island hidden from sight but you're telling me no one had ever seen this massive storm before? No one has ever ventured into it out of scientific curiosity? And how does this perpetual storm remain in place? Skull Island itself is a lush Jurassic Park type affair that is infested with all manner of giant beasties. From huge spider-like insectoids with legs that look like bamboo. Another giant bug-like insect that can camouflages itself as a felled log. A giant squid living in the island waters apparently. Mega sized...errr...ox? And of course the main beastie baddies which look like large reptilian creatures with an exoskeleton covering their faces (Skullcrawlers). The creatures were imaginative and well designed but more importantly believable. Although, you still have the issue of when these creatures battle each other there doesn't often appear to be consequences, initially. When Kong fights the large reptilian Skullcrawlers (or anything) he's throwing them around, beating them with tree trunks, stomping on them etc...but they just keep getting back up apparently unharmed. The old tactic of throwing the opponent happens often in these movies, we see this in superhero flicks too. Of course Kong eventually kills his opponent but they like to drag these things out. The same can be said for the human characters that whip out their guns and barrage these creatures in a hail of bullets. Yet nearly every time these creatures don't appear to be affected by the gunfire (which I don't understand). No matter how big or powerful the gun, they never seem to do anything against these monsters, yet the humans keep relying on their guns. Its like...don't they see the guns are having no effect? I realise that's all they've got but dude come on, stop firing and get the hell outta there. That's not to say it isn't exciting to watch, its just dumb at the same time. Its kinda like the numerous times that Kong appears out of nowhere and surprises a human character. How in the hell does an ape of that size manage to casually walk around and not draw attention to himself? At the same time how could anyone not know this mega sized, 100 foot tall, bipedal ape was coming in their general direction?? As for the human characters, well they're all a predictable, dull, hollow bunch really. Samuel L. Jackson plays the patriotic military leader who's basically gone a bit off the rails seeing his men killed by Kong, thusly he is obsessed with killing Kong. Yep despite all the odds this guy simply doesn't take no for an answer, he's gonna take down Kong and that's that. Tom Hiddleston plays the good looking, heroic, macho adventurer in a tight t-shirt that can do no wrong and saves the day. Brie Larson is merely the attractive female that still manages to tame Kong even in this movie. Something that felt completely outta place and crowbarred in. John C. Reilly is your standard marooned bearded bloke who's gone a bit loopy (kinda like Alan Parrish outta 'Jumanji'). And John Goodman plays the devious Monarch official who lies to everyone about going to Skull Island (he's basically Burke outta 'Aliens'). Then throw in some random diversity box ticking for some other background characters who literally didn't need to be in the movie. We do see the native people of Skull Island and their home but unfortunately that is not explored in any real way. We get hints at their lifestyle, how they somehow survive, their culture etc...but nothing more. They are just there to help the plot along. Most of the US troops are faceless expendable monster fodder bar one or two, but you don't really care about any of them. One soldier decides to kill (or sacrifice) himself towards the end, no clue why he does this, he just does presumably because the director thought it would be cool? I dunno. Then in the climatic battle between Kong and the mega (Queen?) Skullcrawler, I noticed Kong somehow manages to rip out the creatures innards with the same hand he's holding Brie Larson in. Or so it seemed to me. I haven't mentioned the visuals simply because you should all know by now they will be good, very good. Kong looks incredible, the other creatures look incredible, the island looks beautiful and the action is extremely agreeable. There is also a reasonable amount of blood and gore here too which was a nice surprise, certainly not for the family this one. Overall you don't actually get much Kong for your buck (much like 'Godzilla') so there's that. Although the finale throwdown is highly gratifying (lots of throwing being key here). You obviously spend much more screen time with the human characters, but alas they are all pretty throwaway in my opinion. There are too many characters, we don't get to know them and in the end you simply don't care about them. The off-kilter humour at times also did not help. If I can say this, the 2014 'Godzilla' movie felt like a slightly more sensible affair, a touch more of a monster action thriller vibe about it. This movie has more of a comicbook vibe about it if you ask me. It felt a bit more silly and leaned more towards something like 1995's 'Congo', mixed with bits of 'Apocalypse Now' or any number of Nam war flicks. And of course we have the usual issue of this movie coming across more as filler for a bigger better movie later on down the line that features a famous giant reptilian monster. That's not to say this was a bad movie, its not, its essentially about King Kong punching and destroying stuff, how is that bad? Well its not, its fun and it looks cool. Unfortunately that's about it, overall its very shallow, tonally mixed and is clearly riding Marvel's coattails...but I did enjoy it.
Phil Hubbs
Super Reviewer
½
It is hard to care about anything in this visually aseptic (yet occasionally enjoyable) monster movie whose CGI is so artificial that it feels like watching someone play video game - including an awful excess of lens flares and too much boring action for very little substance.
Carlos Magalhães
Super Reviewer
½
Unlike it's predecessors Skull Island isn't a Hollywood fusion of romance, drama and action. Rather It's definitely a Monster flick through and through. I think the simplicity in the Kaiju-bashing genre in conjunction with the movies approach in direction is what makes this work. Without the skills of Vogt-Roberts this reiteration just might have been a dud, there are definitely notable stylistic choices in camera use, visuals and music that makes this film stand out. It also helps to have an all-star cast that knows what they are doing. The humans are there to facilitate Kong who's the real lead of the story, but these actors know how to add just enough character to their roles to engage the viewer. Kong works by being exactly what it has to be and not overreaching. Although someone will have to explain what justified hiring Tian Jing to be a sex doll on the set.
Drake Tsui
Super Reviewer
Kong: Skull Island Quotes
There are no approved quotes yet for this movie.