Kramer vs. Kramer
(1979)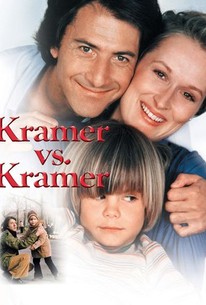 TOMATOMETER
AUDIENCE SCORE
Critic Consensus: The divorce subject isn't as shocking, but the film is still a thoughtful, well-acted drama that resists the urge to take sides or give easy answers.
Movie Info
Joanna Kramer (Meryl Streep) walks out on her advertising-art-director husband Michael (Dustin Hoffman). Though he is obviously insensitive to everyone's feelings but his own, Michael has not lost his wife because of this; she simply wants to go out and "find herself". Also left behind is the Kramers' 6-year-old son Billy (Justin Henry), whom Michael barely knows. At first, both father and son resent each other's company, but before long they have formed a strong bond of love and mutual respect. So devoted a father does Michael become that he begins neglecting his work and loses his job. Suddenly, Joanna reenters his life, announcing that she now has a well-paying job herself, and wants full custody of Billy. During the subsequent court battle, Michael takes a job far beneath his talents to prove that he's a worthy parent. Still, he loses the case, though the film ends on a note of hope. In adapting Avery Corman's novel, writer/director Robert Benton wisely altered the character of Joanna Kramer from a spiteful shrew to a well-meaning but confused woman who merely wants what she thinks is best for herself and her child. Benton also sagaciously removed a secondary romance between Michael Kramer and his platonic lady friend Margaret Phelps (Jane Alexander). By refusing to truckle to the Obvious, Benton transformed Kramer vs. Kramer from a standard marital-breakup tale to a film of rare depth and honesty. An incredible moneymaker, Kramer vs. Kramer also did well for itself at Oscar time, winning awards for Best Picture, Best Actor (Hoffman), Best Supporting Actress (Streep-but who was she supporting?), Best Screenplay and Best Director.
News & Interviews for Kramer vs. Kramer
Critic Reviews for Kramer vs. Kramer
Audience Reviews for Kramer vs. Kramer
A profoundly affecting family drama in which everything conspires for something so perfect that you must be dead if you are not moved, and it relies on a beautiful script that refuses to take sides and on exceptional performances by Dustin Hoffman, Meryl Streep and Justin Henry.
Carlos Magalhães
Super Reviewer
½
"Who's gonna read me my bedtime stories?" The 1970's has always been a decade of film that I've never withheld my appreciation for. I'd go as far to say that's it's been the best in terms of American cinema. It was the decade where we were introduced to some of the finest screen actors in DeNiro, Nicholson & Pacino. We had films of such high calibre as The Godfather's, One Flew Over The Cuckoo's Nest, Taxi Driver, Mean Streets, The Deer Hunter, Dog Day Afternoon. I could go on and on here but I mention this because Dustin Hoffman and Meryl Streep where another two of these marvellous performers and Kramer vs Kramer one of the films that's so often forgotten about. Career man Ted Kramer (Dustin Hoffman) is so caught up with work that his wife Joanna (Meryl Streep) feels exhausted and unappreciated. She makes the decision to leave him but also decided to leave him with their six-year old son Billy (Justin Henry). Ted has to learn quickly how to be a hands-on father and by the time he gets used to it Joanna reappears claiming custody of Billy. As well as the 70's being a strong decade, much admiration has also went to films in terms of Oscar sweeps. Only three films in the history of the Academy Awards have won all top five awards (Best Picture, Director, Actor, Actress & Screenplay). If you consider Kramer Vs Kramer for a moment, most wouldn't normally think that this film came close to that achievement. But it did. The only award that it didn't win was Best Actress but had Meryl Streep been considered in the leading actress category it might well have done. She won Best Supporting Actress instead which makes this film very close to achieving the full sweep. Resisting the temptation to be melodramatic, it's a fairly straightforward family drama. Films of these types tend to fall into courtroom drama's (of which this touches upon) but never falls prey to that sub-genre. The beauty in Kramer vs Kramer is not to rely on high tension or confrontation but on the human aspect of relationships and family life. It emotionally resonates by showing us the everyday; heated discussions, playtimes, bedtime stories and frustrating meal times. It might not sound like much but there's a real heartfelt authenticity in capturing these moments. Director Robert Benton, wisely, knows when to focus on his actors and has a marvellous ability to capture realism. As a result, he's aided with some stunningly delivered performances; both Hoffman and Streep are at the very top of their game and young Justin Henry is no less their equal as their young afflicted son caught in the middle. A beautifully realised dramatic piece that benefits from the whole cast and crew delivering honest work. It fully manages to capture and depict both the beauty and the difficulty of parenting and with a thoughtful intelligence, portrays the motivations and decisions from it's characters without ever passing judgment. Another one of the decade's true highlights. Mark Walker
Mark Walker
Super Reviewer
½
Even in our contemporary time period, the roles of mother and father are implicit and gender biased. "Kramer vs. Kramer" was a revolutionary film at the time of its release because it wasn't afraid to take the position that men can be great caretakers in the same way women were traditionally shown to be. What most people find wanting with this film is that it seems to demonize the wife, while showing that the husband is just as capable in a soapy, melodramatic way. I disagree heartily, and attest that this film doesn't take any sides, and makes a point of creating fleshed out characters who have their own desires and fears, and especially faults. Ted (Hoffman) is a lousy husband who doesn't pay attention to the needs of his wife, and Joanna (Streep) leaves her son when she tries to find herself. Both have failed their family in obvious ways, but each cares for their son equally. That said, Ted's exploits as a newly single dad mimic the same problems that all parents contend with in their daily lives. He has to learn to be productive, nurturing, attentive, and be able to understand his son's concerns about his mother without taking a side. Hoffman is really demonstrative of someone finding his way, and we both pity him and feel angered by his previous dalliances in being a workaholic, and his inattentiveness at home. Streep plays a very complex character in Joanna, who really does want to take care of her son, but hasn't figured out how best to do it. The entire ending section of the film, when they fight each other, was riveting, if only because there was no one to truly root for. Each contends with their marital issues simply, and we understand the extent of what love truly means, even when the nuclear family suffers a meltdown.
Spencer S.
Super Reviewer
Kramer vs. Kramer Quotes
| | |
| --- | --- |
| Ted Kramer: | I came home to share with my wife one of the five best days of my life, and she tells me that she doesn't want to live with me anymore! Do you know what she's done? |
| Margaret Phelps: | Yes, she loused up one of the five best days of your life. |
| | |
| --- | --- |
| Billy Kramer: | I like Boston. |
| Ted Kramer: | Boston? Why do you like Boston? |
| Billy Kramer: | 'Cause Mommy's from Boston. |
| | |
| --- | --- |
| Ted Kramer: | Is that what you think? No. That's not it, Billy. Your mom loves you very much... and the reason she left has nothing to do with you. I don't know if this will make sense, but I'll try to explain it to you. I think the reason why Mommy left... was because for a long time... I kept trying to make her be a certain kind of person. A certain kind of wife that I thought she was supposed to be. And she just wasn't like that. She was... She just wasn't like that. I think that she tried for so long to make me happy... and when she couldn't, she tried to talk to me about it. But I wasn't listening. I was too busy, too wrapped up... just thinking about myself. And I thought that anytime I was happy, she was happy. But I think underneath she was very sad. Mommy stayed here longer than she wanted because she loves you so much. And the reason why Mommy couldn't stay anymore... was because she couldn't stand me. She didn't leave because of you. She left because of me. Go to sleep now because it's really late, okay? Good night. Sleep tight |
| | |
| --- | --- |
| Billy Kramer: | We need cereal |
| Billy Kramer: | We need cereal. |
| Ted Kramer: | Okay, what color? |