Kráska v Nesnázích (Beauty in Trouble)
(2006)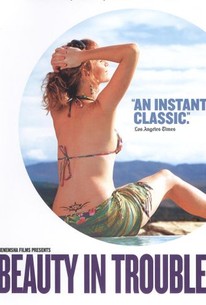 TOMATOMETER
AUDIENCE SCORE
Critic Consensus: A complex, affecting multi-character drama, Beauty in Trouble also works as social history and as a tale of familial trials and tribulations.
Kráska v Nesnázích (Beauty in Trouble) Photos
Movie Info
Pupendo and Up and Down director Jan Hrebejk thoughtfully ponders the effect of contemporary events on traditional Czech culture with this engrossing tale of the unlikely romance shared between a desperate young mother and a kindly, but much older, Czech expatriate. Effectively rendered destitute by the floods that washed through Prague in 2002, struggling young father and husband Jarda (Roman Luknar) eventually resorts to stripping stolen cars as a means of supporting his impoverished family. Jarda's wife Marcela (Anna Geislerová) is having difficulty accepting her husband's nefarious new career, though, and before long she is packing her bags and rounding up the kids to seek shelter with her mother. Life at her mother's house isn't easy thanks to the constant presence of her mean-spirited stepfather Richard (Jiri Schmitzer), but it simply seems as if there is no place left to go and Marcela's options have run dry. Meanwhile, aging Czech émigré Benes (Josef Abrhám) is traveling to Prague from his home in Tuscany in order to reclaim a house that was previously seized by the communists. When Benes and Marcela meet in a chance encounter and the benevolent older man clearly takes a liking to the beautiful young woman, the prospect of securing a stable future for her young children soon prompts the confused Marcela to consider leaving her beloved husband behind in order to make a permanent home with the elegant but elderly foreigner.
Critic Reviews for Kráska v Nesnázích (Beauty in Trouble)
Audience Reviews for Kráska v Nesnázích (Beauty in Trouble)
½
It is full of unexpected twists, humour and amazing performances culminating in a surprising and paradox ending. Rounding out this excellent cast is Emília Vasaryova as Jarda's mentally fragile mother who gives any money she gets to the local religious charlatan. There is a lot going on here for a small film and it's good story with a great script and a lot of comic relief. The leastest character is Richard (played by Jiri Schmitzer) because he is a real horror show. He borders on being a child abuser to the kids. He's obsessive about cleanliness, but ungraciously farts at the table, all the while demanding manners and decorum from the kids. He's real low class socially handicapped wretch.
Dean McKenna
Super Reviewer
½
The trailer was set to the Falling Slowly song from Once, which gave it a sweet somber tone, but based on the trailer I expected the film to be funnier and sexier. I didn't find it very humorous, and while Anna as Marcela was attractive and seductive, the film wasn't so much about her sex life. She has to take care of her two kids, she has to deal with being a guest in her mother's and father-in-law's house when her husband goes to jail, she has to cope with her husband's mother trying to convince her not to get a divorce, and she has to figure out if she should accept the advances of an older man who is quite well off. Sure there are a few funny moments, but overall it is very serious material. The movie is slowly paced and contains natural performances from all involved. The love triangle is left open ended and so that probably explains why it has not caught on so much with American audiences who generally want neatly wrapped up closure.
Byron Brubaker
Super Reviewer
[font=Century Gothic]In "Beauty in Trouble," Marcela(Anna Geislerova) moves out of her home, taking her two children, Kuba(Adam Misik) and Lucina(Michaela Mrvikova), to live with her mother(Jana Brejchova), and her husband, Risa(Jiri Schmitzer), in their small apartment. Marcela's husband, Jarda(Roman Luknar), is involved in stripping stolen cars, at least since a devastating flood wrecked their home. One day one of Jarda's associates steals the wrong car(one with a satellite tracking system), belonging to Evzen(Josef Abrham), a wealthy man who spends most of his time in Tuscany. As Jarda heads to prison, Evzen starts taking an interest in Marcela...[/font] [font=Century Gothic][/font] [font=Century Gothic]Populated by more than its share of its bad marriages, "Beauty in Trouble" is an intriguing movie about the class structure in post-Communist Czech Republic. Evzen is kind, simply because he can afford to be, a luxury none of the other characters can attest to. For example, he was out of the country when the floods hit, which Marcela's family suffered through and which may have forced Jarda into an illegal activity. Instead of being open towards his family, Risa is remarkably hostile towards their presence. Look, I am the last person to complain about manners but still...Regardless of how little we may have to share, family is family, right?[/font]
Kráska v Nesnázích (Beauty in Trouble) Quotes
There are no approved quotes yet for this movie.