Kuchisake-onna (A Slit-Mouthed Woman) (Carved)
(2007)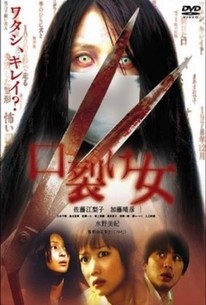 AUDIENCE SCORE
Critic Consensus: No consensus yet.
Kuchisake-onna (A Slit-Mouthed Woman) (Carved) Photos
Movie Info
Japanese director Koji Shiraishi helms the direct-to-video supernatural horror picture Carved. The story unfolds in an ominous suburban town, where, 13 years prior, the spirit of a woman turned up to terrorize youngsters. During her tragic lifetime, the woman in question had been severely disfigured by her psychotic husband, who slashed her from mouth-to-cheek with a pair of scissors. After her untimely death, she prowled the streets of the town, clad in a surgical mask and a long, sweeping coat, and would accost her victims, removing her mask to reveal her deformities as she queried, "Am I pretty?" Any victim who answered negatively met an immediate grisly death. Now, after a lengthy absence, the woman's ghost returns to wreak another onslaught of terror on the community. ~ Nathan Southern, Rovi
Critic Reviews for Kuchisake-onna (A Slit-Mouthed Woman) (Carved)
Audience Reviews for Kuchisake-onna (A Slit-Mouthed Woman) (Carved)
½
This movies take on the famous Japanese legend but makes no sense. The original story is about a vain woman that is cut by her jealous husband/or (more recently) has plastic surgery go horribly wrong. In either case it is about beauty. This film takes on a new origin story, but leaves the woman asking the question "Am I Pretty?" She has no reason to ask this as she was an abusive mother, not a temptress. Other than that the film is OK, it plays everything in a weird way, where the woman just shows up without typical horror introductions. She also attacks mostly in daylight. Sometimes this rather basic form of filming, results in very creepy imagery. The cut girl stumbling through the park was very well done. This film may as well have been called "When Bitches Do Nothing!" The women just stand around and let stuff happen. They'll just watch as men are mutilated and children are abducted. I wish it had made more of the protagonist beating her own child. It gave a very sinister edge to the hero.
Luke Baldock
Super Reviewer
Seen because of an interest in the orignal urban legend. I loved the make up for the Kuchisake-Onna, but wasn't particularly keen on the reveal and showdown because I prefer the UL's motivation and question ("Do you think I'm beautiful?") rather than the suggestion that this was misheard.
½
Pretty good story that is pretty gosh darned brutal. I imagine one could complain about the unlikable characters, but I think that's how the filmmakers intended them. All in all, a worthwhile watch, and it's a pretty cool villainess.
Christopher Brown
Super Reviewer
Kuchisake-onna (A Slit-Mouthed Woman) (Carved) Quotes
There are no approved quotes yet for this movie.