Kung Fu Hustle
(2005)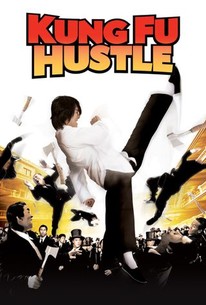 Movie Info
The work of international superstar Stephen Chow, Kung Fu Hustle is a humorous, special-effects-filled, action-packed martial arts epic set in early '40s China. A bumbling thief named Sing (Stephen Chow) desires to be the toughest member of the dreaded gangster hit squad known as The Axe Gang, but to completely join the gang he has to commit murder. When Sing attempts to rob a crowded run-down apartment complex known as Pig Sty Alley, the locals begin to defend themselves with some high-flying kung fu skills, and a tiny war erupts between the local masters and the axe-wielding gang. After the gang busts the ancient kung fu king known as The Beast (Leung Siu Lung) out of jail, tensions reach a boiling point as Pig Sty Alley's landlady (Yuen Qiu) leads an all-out attack against the gang and Sing discovers his true heroic fate. Kung Fu Hustle, which set box-office records across Asia during its December 2004 release, also stars Yuen Wah and Xing Yu, and features fight choreography by legendary masters of martial arts cinema Yuen Woo Ping and Sammo Hung. ~ Jason Gibner, Rovi
Critic Reviews for Kung Fu Hustle
Audience Reviews for Kung Fu Hustle
½
With another fantastic combination of martial arts, nonsensical humor and cartoonish special effects, Stephen Chow's follow-up to Shaolin Soccer may not be as incessantly hilarious as that film but is an amazing entertainment for those who love great fight scenes and surprises.
Carlos Magalhães
Super Reviewer
Stephen Chow's impressive comedy/kung-fu bonanza is terrific. Kung Fu Hustle displays the dynamic direction of Chow along with a laugh-out-loud combination of action and humor, further heightening the director's/actor's credibility. 4/5
Eugene Bernabe
Super Reviewer
Poetry. And funny too. The Axe Gang are the new big kids in town, but only for a quick moment in this game of filmic one-upmanship that's at the heart of this heavily influenced by Hollywood Chinese film. Count the many, many references to popular cult favorites ... it's too many to count. And just flat out fun. Love it.
Kevin M. Williams
Super Reviewer