Kung Fu Killer
(2015)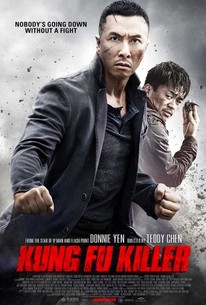 Movie Info
A vicious killer, Feng, is going round Hong Kong killing top martial arts exponents, leaving a secret weapon called the Moonshadow as his calling card. When convicted killer and kung fu expert, Xia, hears of this, he offers to help the police catch the killer, in return for his freedom. Despite their misgivings, the police release the former police martial arts instructor into their custody. With his help, they realize from the chronological order of the victims that the killer is targeting his victims, all the top masters in their martial arts style, following a martial code of training. When Xia also disappears after a close encounter with Feng, they suspect the worse: that the two are accomplices and Feng was the bait to help spring Xia from jail. But Xia has actually gone back to his home in Foshan to find out more about the mysterious calling card. While doing so, he discovers the killer's identity and his motivation: the true philosophy behind martial arts was to kill opponents who were weaker than him. Steadfastly, Xia refuses to be drawn into a fight with Feng - until the killer threatens the women he loves most. Only then does he realize that he would have to go against the martial code in order to uphold it.
News & Interviews for Kung Fu Killer
Critic Reviews for Kung Fu Killer
Audience Reviews for Kung Fu Killer
½
Ever since I've been watching Donnie Yen's films, which hasn't even been that long now, maybe 3-4 years since I first watched Ip Man, I've come to the realization that this guy is supremely underrated as a martial arts actor. Particularly when compared to people like Jackie Chan or Jet Li. Part of the reason is that both Jackie and Jet made a successful transition to the United States market, whereas Donnie pretty much stuck it out in Hong Kong. Realistically speaking, however, Donnie Yen is just as good as those two and despite the fact that he's been doing this for over three decades, Donnie's body has held up surprisingly well considering the fact that he is now 52 years old. His moves are still very crisp and fast. I don't think this guy has gotten the credit for being a consistently good martial arts action star. He was stuck between the past of Jackie Chan and Jet Li and the future of Iko Uwais and Yayan Ruhian from The Raid. I think he definitely deserves more acclaim for his talents at putting together excellent action scenes. He's also a considerably better actor than Jet Li or Jackie Chan, something that he definitely does not get enough credit for. But back to the action, it is pretty tremendous and as you could probably tell from the rating, this is where this film truly shines. The action is pretty excellent, offering many memorable fight scenes, particularly the climactic fight scene between Hahou and the villain of the film, on the middle of a busy highway. This might, honestly, be one of the best action scenes I've seen in any film this year. It covers different fighting styles and is crisply edited. It's not that the rest of the fight scenes aren't good, because they're really damn good, it's just that this climactic one is that much better. Where the film does 'fall apart' is the narrative. I don't wanna say it's convoluted, but it follows a fairly basic police procedural structure, with the clue A leading to clue B and so on and so forth. The cops are always just one step behind, you've seen this before and you'll very likely see it again. It's just that the kung fu aspect adds something fresh to the 'story', I suppose. But I wouldn't call it a good story. It just doesn't really click for me as much as it probably could have. It didn't feel like the script was carefully and meticulously written. It's just. I wouldn't say it's throwaway, but it's not a great narrative. It also feels like the villain didn't really have a real reason for doing the things he did. I mean he lost his wife to cancer and that's why he's determined to kill all the kung fu grandmasters. What? Why? That's a pretty big flaw. Not that the villain isn't good, it's just that you can't really buy into his motives because there are none. But that's pretty much it regarding the negatives, it's just that the story really falls back behind such great action sequences. I'd recommend the movie just based on that. And, actually, it would've gotten 3 stars if it wasn't for the climactic fight scene. So I'll say that the it essentially just squeaked in a 3.5 stars just at the end. So it's not like it's a really good film from beginning to end, it just reaches that level as it's ending. With that said, I'd still recommend this film. The action scenes are really that good. It would've been a great film with a considerably better story, but I can't really complain much.
Jesse Ortega
Super Reviewer
½
Teddy Chan unleashes martial arts on the crime drama world of Kung Fu Jungle. Intriguing from the start, the 100 minute story slowly loses some of its steam before picking itself up for the finale. For the most part, the film plays out like a crime thriller more than it does an action adventure; however, the martial arts manages to find its place in this picture. The pacing is moderate, while the action is fast and frenzy. The lack of slow motion helps to showcase the choreography of the fights, leaving the want for more. The CG isn't that great, but its use is limited. It isn't a martial arts extravaganza without Donnie Yen and he doesn't disappoint. His acting doesn't stand out, but his action sequences do. Charlie Young is there to carry the film from an acting perspective. The plethora of cameos, identified in the film's closing credits, is a nice touch. Kung Fu Jungle lives up to expectations with martial arts in a modernized setting. Recommendable.
Kung Fu Killer Quotes
There are no approved quotes yet for this movie.