La Belle Noiseuse
(1991)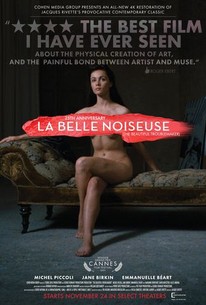 TOMATOMETER
AUDIENCE SCORE
Critic Consensus: A sensual and hypnotic masterpiece, La Belle Noiseuse luxuriates in its four-hour run time while holding audience attention.
Movie Info
In 1991, the master French director Jacques Rivette released one of his most acclaimed works- the four-hour La Belle noiseuse. It was a fascinating and unconventional examination of the creative process, about an artist named Edouard Frenhofer (Michel Piccoli) who reaches the age of 60, and finds new inspiration in a young model (Emmanuelle Beart), much to the quiet indignation of his wife Liz (Jane Birkin). Two years later, Rivette was asked to edit the original 240-minute drama down into a feature-length version that would be more palatable for mainstream audiences. The result was Divertimento (its full title La Belle noiseuse - Divertimento). Released to U.S. cinemas in September 1993, it received much less enthusiastic notices from critics, a fair number of whom (see the Roger Ebert and Vincent Canby assessments) implored viewers to stick with the original. Unsurprisingly, the recut version reduces many of the long, ethereally beautiful sequences that show Frenhofer hard at work on his canvas; instead, it places a much greater emphasis on the emotional toll that Frenhofer's artistic obsessions and infidelities take on the women in his life. The movie also features a different framing sequence, and incorporates takes unused in the original cut. In the eyes of many, the alterations basically maimed the picture, and Divertimento - unlike its parent film - soon faded into total obscurity.
Critic Reviews for La Belle Noiseuse
Audience Reviews for La Belle Noiseuse
An absolutely fascinating look at an artist inspired by beautiful woman to deliver more art when the muse is not quite ready to be as museful as he might like.
John Ballantine
Super Reviewer
½
La Belle Nosieuse is fours long, slow moving and mezmerizing. I wish I knew how Jacques Rivette pulls that off. The story of a blocked elderly genius artist Frenhofer (Michelle Piccoli) who is brought back to creative life by a young fiery woman Marianne (Emmanuelle Beart in her second movie) who becomes his model and muse. Marianne is the partner of a much young artist, and their relationship changes for the worse when she commits body and soul to modeling for the old guy. The gorgeous Beart is naked for much of the film, and though she's beyond stunning, somehow it's not as hot as you would imagine, just interesting. PIccoli's loyal wife and former model (Jane Birkin) is no longer inspiring him, so she's devastated yet empathetic, making her the perfect wife for an artist. The film touches on lots of rich emotional ground, about the evolving nature of long relationships, youthful artistic vision vs. autumnal artistic closure, the creative process and its volatility and the toll that art takes on love. Huge long sequences that feel almost 'real time' show the artist sketching in long drawn out shots, with the intense sound of a scratching pen and shots of Beart straining in a series of excruciating poses. These moments are utterly engrossing and take a large bulk of the film's running time, depicting an endlessly complex collaboration between artist and model, Piccoli and Beart are totally committed to their roles and boundlessly interesting throughout. The twists and turns of their relationship are riveting or Rivette-ing. Rivette doesn't even show the final painting to the audience, (though the model and the wife see it, their reactions are unforgettable) and it didn't annoy me! It's almost too sacred to show. This snail's paced film will not appeal to everyone, it lacks the thrills per minute of The Avengers, and is even more slow paced than lugubrious flicks like Melacholia and The Tree of Life. However, if you're into thinking about art and you've got four hours to spare, your patience will be richly rewarded. Noiseuse is one of the crown jewels of the French cinema.
Josh Morris
Super Reviewer
Action? None. Plot? No. Dialogue? Not much. And yet, I found it fascinating to watch the creative process. I enjoyed watching the two main characters interact. As Edouard (Piccoli) exerted his will over Marianne (Beart), and her resistance gave way to entering into the collaborative process, then Edouard also became more inspired and began to demand more of Marianne. And yes, that Emmanuelle Beart was nude for long stretches more than made up for the weakness of the script. Scenery? Ahhhh!
Mark Abell
Super Reviewer
La Belle Noiseuse Quotes
There are no approved quotes yet for this movie.