La Cage aux Folles
(1979)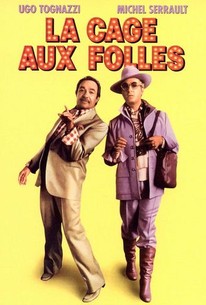 La Cage aux Folles Videos
La Cage aux Folles Photos
Movie Info
In this film, Renato is the owner of a Saint Tropez nightclub. Renato's son Laurent has lied about his father's profession and "persuasion" so as not to offend his fiancee's father. When Laurent's fiancee and her father visit, Renato and his lover desperately try to "butch up" their relationship.
Critic Reviews for La Cage aux Folles
Audience Reviews for La Cage aux Folles
½
Decent movie overall, maybe I'd have enjoyed it more if it watched back when it first came out because, like with another old French comedy La Chevre, I thought this movie was only sporadically funny. There's some really funny scenes here, but there's also a whole lot of nothing in between those funny scenes. Michel Serrault is really entertaining in his role but it wasn't enough to make it good and, realistically, he was the main reason to watch this movie. And seeing how he interacts with the more conservative couple. Really it feels just like a sitcom, quite frankly. It's not bad and while it did nothing for me, I'm completely aware that others would probably enjoy this movie more than I did.
Jesse Ortega
Super Reviewer
½
This film along with the later "Birdcage" should be compulsory viewing for all late teen agers at school. I found both films enjoyable but then I had already been to see the Stage show the films are based on, about 22 times at latest count. The show/film is a study of true love between two gay men being tried and tested and shown to be true. I can recommend both films, but I do SO wish they would make a true film of the stage show, after all, the story the film is based on is actually a Musical. Remember, the Supreme Gay Anthem << "I am what I am!" >> is taken from the musical stage production. Watch either of the two films and come away with satisfaction, see the stage show and weep with joy. Having said all of that, I did find "La Cage 2" made me cringe a bit. sorry.
Cassandra Maples
Super Reviewer
½
This is a really good movie about tolerance that's most valuable for the boundaries that it pushed. In places absolutely hilarious and in other places very touching, this is a slow-mover which loses most of its points for its use of drag near the end - it's just way too obvious that Albin will dress up like Laurent's mother, and that classically French comedic chaos will ensue. Still, one that's well worth watching, Michel Serrault's performance as three characters is outstanding.
Daniel Perry
Super Reviewer
La Cage aux Folles Quotes
There are no approved quotes yet for this movie.