La Carroza
(1980)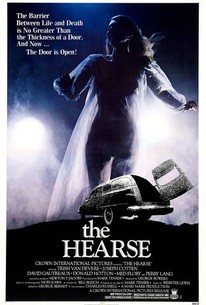 AUDIENCE SCORE
Critic Consensus: No consensus yet.
Movie Info
La recuperación de una mujer de una crisis es misteriosamente perturbada. Trish Van Devere, Joseph Cotten, David Gautreaux, Donald Hotton, Med Flory, Donald Petrie. Dirigida por George Bowers.
Audience Reviews for La Carroza
½
This is Part Of The Drive In Collection Volume 2 This is a great spooky Horror film, that's vastly underrated!. It's a very creepy, and engrossing haunted house story, however the ending just doesn't cut it. i liked all of the characters, especially Trish Van Devere's!. It's a little cheap at times, but there were quite a few moments that made me jump, and i was really getting into it, unfortunately, the ending sucked!. The finale is excellent and very creepy,and although it's somewhat predictable it has enough tension and scares to keep you satisfied. There is no gore.I got this off an 8 movie 2 disc horror set The Direction is good for the most part. George Bowers does a very good job here creating lots of creepy atmosphere, good lighting, with some great zoom in's , and keeping the film at an engaging pace!, solid job. The Acting is very good. Trish Van Devere, is excellent as the main lead, she is beautiful, had good chemistry with David Gautreaux,and was very likable, and was a perfect choice to play this part!. Joseph Cottenis good as the old drunk, and brought some class to this. David Gautreaux, is creepy here, and did well, he had good chemistry with Trish Van Devere, and was likable. Donald Hotton, is okay as the priest, was unconvincing at times, but he was okay, and got the job done. Christopher McDonald, is okay in his short role. Perry Lang, is good as Paul i liked him. 3 1/2 stars 9-6-13
Bruce Bruce
Super Reviewer
One of the few movies that ever nailed the lone female moving into an old house and taking on the supernatural is The Sentinel. It has some geuinely creepy moments and managed to throw everything but the kitchen sink into the mix in terms of batshit story ideas. It's a brilliantly insane piece of work, and definitely underappreciated. I can certainly give it much more praise than The Hearse, which sort of tries to do the same thing, but ultimately winds up being boring. It has a couple of good things about it. It has a late career performance from Joseph Cotton and a small part for Perry Lang. Trish Van Devere's performance is mostly straightfoward, and she's just not very good in it. The only time when she gives it her all is when she's acting crazy and frustrated. In those moments she's very believable, but uninteresting in the rest of the film. The score had me laughing from how cheesy it was, but there's really not much about this movie to like. If you're a feminist, you'll appreciate how strong Van Devere's character is I suppose, but if you want a superior film, watch The Sentinel instead. The Hearse is a curiosity, and nothing more.
Tim Salmons
Super Reviewer
The Hearse is a pretty interesting idea for a horror film. I found that the film is fairly underrated and despite the fact that it's somewhat cliché, inspired and derivative of other, better horror films; The Hearse is a good enough film. One thing that you should keep in mind while watching The Hearse is that despite some overused ideas, a horror film can still be fun. The Hearse is most certainly that. There's some decent acting on-screen and the chills are decent. As a ghost story, The Hearse is a good enough film to watch, and is underrated. The film does use elements from other horror films, and director George Bowers steadily builds up the tension to a surprise final. The film is certainly entertaining, but there are of course a lot of aspects in the film that could have been improved upon. The Hearse has some creepy moments, but after a while the plot seems to fall apart. The film is a good enough horror film to watch, but is never really excellent. The films idea is wonderful and there is a good cast here. As a horror film, The Hearse does entertain, but it uses a derivative formula and what could have been a great horror film is simply a good one. Nothing wrong with that, however considering that the plot revolves around a haunted house and Hearse, the film could have been much better than it is. I enjoyed the film, but once you finish it, you realize that there are plenty of elements that could have been improved upon. Still, if you love a good ghost story, The Hearse despite its flaws, is still worth checking out.
La Carroza Quotes
There are no approved quotes yet for this movie.