La Chèvre (The Goat) (Knock on Wood)
(1981)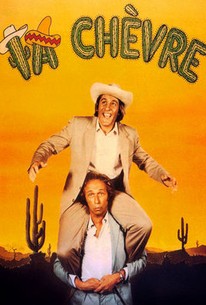 La Chèvre (The Goat) (Knock on Wood) Photos
Movie Info
One the best, most serious detectives in France (Gérard Depardieu) is teamed up with a luckless stumble-bum (Pierre Richard) and sent off to Central America to search for the klutzy daughter of a powerful magnate in this fast-paced and funny French farce.
Critic Reviews for La Chèvre (The Goat) (Knock on Wood)
Audience Reviews for La Chèvre (The Goat) (Knock on Wood)
You know it's absolutely amazing how much Luke and Owen Wilson resemble, in their current states, Gerard Depardieu in this movie. Luke has the large face and Owen has the nose and the hair...almost makes you think about their parentage...Anyway, this movie didn't really do a lot for me quite frankly, I found it only sporadically funny and everything else between the funny scenes was completely dull and boring. It's kind of a shame, because Pierre Richard had some great facials and his chemistry with Gerard Depardieu is decent enough where you'd think the movie would be better than it is, but it's not and I blame the writing for this. It's just not that well-written and completely relies on the actors, the problem is they're not great together, only decent as mentioned. I mean when the most interesting thing about the movie is how much Owen and Luke Wilson look like Gerard Depardieu here, then you know you're fucked.
Jesse Ortega
Super Reviewer
La Chèvre (The Goat) (Knock on Wood) Quotes
There are no approved quotes yet for this movie.