La Comunidad (Common Wealth)
(2000)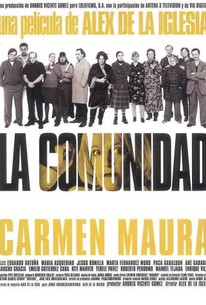 AUDIENCE SCORE
Critic Consensus: No consensus yet.
La Comunidad (Common Wealth) Photos
Movie Info
The fifth feature of noted Spanish filmmaker Alex de la Iglesia, La Comunidad is a frenetic black comedy set in a decrepit old house in the center of Madrid. One of the house's new residents is Julia Garcia (Carmen Maura, whose performance won her a best actress award at the 2000 San Sebastian Film Festival), a real estate agent who has taken an apartment to revive her sagging marriage. One day, while engaging in some bedroom bliss, Julia and her unemployed husband Ricardo (Jesus Bonilla) are attacked by cockroaches that rain down on them through a crack in the ceiling. During a subsequent investigation of the upstairs apartment, firemen discover a man's rotting corpse. Julia later conducts her own investigation of the apartment and discovers almost 15 million dollars hidden away under the floor boards -- the result of a soccer-pool win by the apartment's dead owner. She decides to take the winnings and run, but while removing the cash, meets her neighbor Ramona (Terele Pavez), who quickly becomes suspicious of Julia's activities. It turns out that everyone in the building knew about the money and agreed to share it amongst themselves, a plan severely compromised by Julia's desire to keep the money for herself. After inviting Julia to a welcome party held by the residents' association, her neighbors go to extreme lengths to get the money, and plenty of cartoon-colored murder and mayhem ensues.
Audience Reviews for La Comunidad (Common Wealth)
½
¨La Comunidad(Common Wealth)¨ brings out the darkest side of our human nature, bringing out delicious black comedy, horror and thriller elements without the need to invoke anything supernatural or fantastical. The pacing of the film is spot on, and the atmosphere and tension is built to great effect. The film is creepy, crazy and builds to real edge of the seat tension. The characters are all wonderful, and the cast give great performances.
[font=Century Gothic]In "Common Wealth," Julia(Carmen Maura), a temporary real estate agent, is showing a couple a furnished apartment in downtown Madrid where her and her underemployed husband, Ricardo(Jesus Bonilla), have been spending the occasional night to escape their unheated apartment, when water starts leaking in from the apartment above. After the fire department breaks in, a very, very dead body is found in hideous squalor. While going through his papers, Julia finds a map that leads her to a treasure of 300 million pesetas.[/font] [font=Century Gothic][/font] [font=Century Gothic]"Common Wealth" is an entertaining movie with a nasty outlook of human nature(which was reinforced by the rubbernecking on the bus this morning) that owes a lot to "Delicatessen" for its basic setup, if not plot. So, while it is basically predictable, the movie does manage to pull off a couple of surprises in its exciting payoff. That, along with the always delightful Carmen Maura leading the way, does manage to make it quite worthwhile.[/font]
Along with "El dia de la bestia" this is De la Iglesia's best work. a mad, bloody film about greedy murderous neighbors. but warning, you may either hate its absurdity or simply die of laughter.
Pierluigi Puccini
Super Reviewer
La Comunidad (Common Wealth) Quotes
There are no approved quotes yet for this movie.