La Haine
(1996)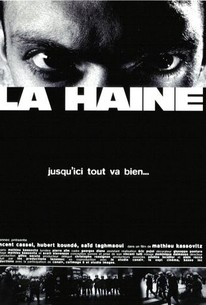 TOMATOMETER
AUDIENCE SCORE
Critic Consensus: Hard-hitting and breathtakingly effective, La Haine takes an uncompromising look at long-festering social and economic divisions affecting 1990s Paris.
Movie Info
While to most outsiders Paris seems the very picture of beauty and civility, France has had a long and unfortunate history of intolerance toward outsiders, and this powerful drama from filmmaker Mathieu Kassovitz takes an unblinking look at a racially diverse group of young people trapped in the Parisian economic and social underclass. Vinz (Vincent Cassel), who is Jewish, Hubert (Hubert Kounde), who is Black, and Said (Said Taghmaoui), who is Arabic, are young men from the lower rungs of the French economic ladder; they have no jobs, few prospects, and no productive way to spend their time. They hang out and wander the streets as a way of filling their days and are sometimes caught up in frequent skirmishes between the police and other disaffected youth. One day, a street riot breaks out after police seriously injure an Arab student; the three friends are arrested and questioned, and it is learned that a policeman lost a gun in the chaos. However, what they don't know is that Vinz picked it up and has it in his possession, and when Vinz, Hubert, and Said get into a scuffle with a group of racist skinheads, the circumstances seem poised for tragedy. Actress Jodie Foster was so impressed with La Haine when she saw it at the 1995 Cannes Film Festival that she helped to arrange American distribution for the film through her production company, Egg Pictures.
News & Interviews for La Haine
Critic Reviews for La Haine
Audience Reviews for La Haine
½
Focusing on a day in the life of three social outcasts of Paris and impressively well filmed in black and white with extremely elegant long takes, this powerful drama comes as a profoundly relevant commentary on the continuous cycle of hate that only generates more hate.
Carlos Magalhães
Super Reviewer
½
I didn't expect this; what a pretentious film. The DVD cover proudly states how 'powerful' it is, and how it was a 'wake up call'. I'm sorry, this film about urban chaos has been done better many times, Taxi Driver being the first example that springs to mind. It's all been said before, but it's upon watching films like 'La Haine' that you truly realise what Robert De Niro created in that performance, his descent into madness totally consumes the viewer. 'La Haine' on the other hand has three leading characters, who, like the film itself, are quite frankly boring. There's no real depth to them, they're annoying, they're just three angry, bitter scumbags who can't function properly in decent social circles(with the exception of Hubert for the most part, however he can be just as bad, as showcased in the art gallery scene). The characters, especially Vincent Cassel's 'Vinz', quickly become tiresome. I'm afraid I'm all too familiar with these types, those playing the victim of society, moaning that they have no opportunities when they know full well that they could make something of themselves if they tried, they're just scared. People like that thrive off making a nuisance of themselves. However, that slightly sociological rant brings me onto some praise; I commend how accurately the characters are represented, but 90 minutes of these characters simply doesn't make for good viewing. Very little happens in 'La Haine', it relies on dialogue, and that certainly doesn't help it, it's no 'Pulp Fiction' in that respect. The narrative, much like its characters, is aimless, not good film making. The only thing I'll remember about La Haine is its abrupt ending, which just serves as chronic bathos in my opinion. If the team responsible for this were aiming to recreate the dreary trials and tribulations of a few members of the Parisian underclass, they achieved admirably.
Jack Hawkins
Super Reviewer
Whenever French cinema comes up in conversation, it's very easy to be dismissive. Quite apart from their artistic legacy within the medium, Jean-Luc Godard and others within the nouvelle vague have created a stereotype of French cinema - namely as something slow, pompous, and with little bearing on reality. Even if these attributes are not remotely accurate, they persist to such an extent that we treat any exception to them with great surprise. And there is no greater exception than La Haine, a positively incendiary film which proves that there is more to French cinema than staring soulfully into middle distance. La Haine is the debut feature from Mathieu Kassovitz, whose subsequent career has left a lot to be desired. While he has been pretty consistent in front of the camera, with supporting roles in Amelie and The Fifth Element, his directorial work has been at best erratic. After seeing this film, you would never have predicted that such a talented observer of human behaviour would end up helming something as deeply derivative as Gothika. But putting that aside, his debut is remarkable both in its socio-political analysis and as a very visceral piece of filmmaking. Realist cinema has always had an ability to shock audiences, either by pushing the envelope of what can be shown on screen, or by tackling subjects which were deemed 'unsuitable' or 'inappropriate' but which form integral parts of our social fabric, for good or ill. When Saturday Night and Sunday Morning was first released in 1960, it was given an X certificate; when reclassified it in 2002, it got a PG. This was not because the film has become tame with the passage of time, or conversely because society has gone rapidly downhill. It is because the film was such a radical departure from the expectations of the public and in particular the censors; not knowing how to react, they made sure that relatively few people saw Karel Reisz' film the first time round. There is a close comparison with Saturday Night and Sunday Morning in the structure of La Haine and in its depiction of the misery of urban life. Both films are set around the actions of a close-knit group of characters over a short period of time, in this case a single day. The world of La Haine is much more angular and masculine, with the characters having very little time for women socially, and the humour is quite a lot darker. But the films do share a central theme of characters being trapped in the underclass, and being deeply unsure of their place in society in spite of all their posturing. Vinz, Said and Hubert go about their business with a conflicted sense of ambivalence about the world around them. On the one hand, they are desperate to get out of the banlieues by whatever means: Hubert wants to move away, while Vinz talks about killing policemen, as if being sent down for life is better than living there for another day. On the other hand, the close affinity between the characters, the confidence they exude, and the sheer number of contacts they have, give the impression of people being embedded within a culture or community, with a fear of outsiders which is as strong as the fear people have towards them. La Haine has a very convincing verité style which embeds us in the world of the characters. The opening credits contain documentary footage of Paris rioting between 1986 and 1996; the film was made during the tail end of these riots, and is dedicated to all those who perished in them while it was being made. The dramatic sections are shot in the same hue of black-and-white as the opening footage, creating a smooth transition from the general picture into this specific story. This approach works so well that we find ourselves asking exactly the kind of questions we should with this kind of film. How much of what we are saying is real? Where does reality end and the acting begin? Where, if anywhere, does the director's creative license enter the fray? When we actually sit down and think about it, in terms of the camera always being in an ideal position at the exact time of the action, such questions do become a little redundant. But the fact that we ask them at all, and for so long, is a validation of the film's approach. Not only is La Haine very realistic, it is also deeply cine-literate. Some of the references are upfront, such as Vincent Cassel recreating a scene from Taxi Driver in front of a mirror, and the film's meticulous approach to realism and use of non-professional actors looks back to The Battle of Algiers. But others are more thinly-veiled, or at least open to degrees of interpretation. The scene where a rap DJ plays music out of his window, and the camera pans over the open spaces between the buildings, is like an ironic rendering of the scene in The Shawshank Redemption where Andy DuFresne treats his fellow inmates to an opera record. La Haine explores hatred between individuals and groups of people in a variety of interesting ways. On one level it is a film about racism, depicting a society dominated by white, 'respectable' people who have little or no idea about what goes on the poorer areas of town. The make-up of the central trio - one Black, one Jewish, one Arabic - reflects three groups which have traditionally been the subject of discrimination and exploitation in France (the latter being a further connection with The Battle of Algiers). Because the police force and media are dominated by white people, our three main characters are alienated and made to feel like scapegoats for the country's problems. On another level, the film explores class hatred and the general fear of outsiders. In the later stages of the film, the three men wangle their way into an art gallery, where free drink is being given out at the launch of a new exhibition. Said attempts to hit on a couple of women there, telling them that his friends are sensitive and write poetry, but the women see right through them and are quick to dismiss their half-arsed attempts to be 'cultural'. The men respond by smashing up the artwork and swearing profusely as they leave, alienated by the stuck-up attitudes of their fellow countrymen and -women. La Haine also explores the possible ethics of violence, and how characters' attitudes change when threatened by or possessing a gun. Early on Vinz reveals that he has found a gun which went missing from a policeman on the night of the riots. Carrying it around in the back of his trousers, he becomes as sociopathic as Travis Bickle, feeling he can take on the world and is willing to die if he takes a few policemen with him. But in the few instances where he gets the chance to use it, he hesitates, being as much of a coward as he claims the police to be. In the end he who lives by the sword dies by the sword, as the film concludes with Vinz being shot in the head at point-blank range. The thrust of these three analyses is that in an advanced capitalist society such as France, society is constantly on the brink of descending into civil war. The widening gap between rich and poor, coupled with continuing racial discrimination, has led to rising crime, drug use and anger at the powers-that-be, who talk about help and fair treatment but continue to look down on the banlieues. The film begins and ends with Hubert's story of a man falling from a 50-storey building, repeating the phrase "So far, so good" until he lands. The fall is not important; what is important is what happens when he lands, and how hard he lands. There are a couple of problems with La Haine. Although the characters remain engaging throughout the 90 minutes, it can sometimes feel like we are going round in circles; in its weaker sections the film can feel like talking followed by shouting, repeated ad nauseum. Equally problematic is the bizarre scene of the old man who finds the young men in the toilet. He tells a story of him and a friend travelling through Siberia on a train, stopping to defecate off the back of the train and his friend freezing to death. It's a very odd bit of absurdist humour which jars with everything around it. In spite of these small distractions, La Haine is still a very powerful film. Its political and social arguments are still fresh and relevant after 16 years, and Kassovitz' direction is by and large exceptional. It is a shame that, out of the main players, only Vincent Cassel has continued to garner the attention he deserves. But as both a document of a troubled past and a stark warning for the present, La Haine remains essential viewing.
Daniel Mumby
Super Reviewer
La Haine Quotes
| | |
| --- | --- |
| Said: | Wow, what a speech! Half Moses, half Mickey Mouse. |
| | |
| --- | --- |
| Vinz: | I know who I am and where I'm from! |