La Horripilante bestia humana (Night of the Bloody Apes)(Horror and Sex)(Gomar: The Human Gorilla)
(1969)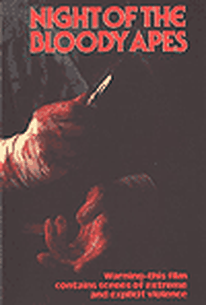 La Horripilante bestia humana (Night of the Bloody Apes)(Horror and Sex)(Gomar: The Human Gorilla) Photos
Movie Info
La Horriplante Bestia Humana is a gory, misogynist exercise in rape, wrestling, and thoracic surgery from Mexico's premier father-son "Z"-movie team René Cardona and René Cardona Jr. Essentially a remake of the elder Cardona's Doctor of Doom, laced with more sex and violence for more tolerant European audiences, this sleazy exploiter stars José Moreno as a brilliant but misguided surgeon (aren't they always in movies like this?) who tries to save his ailing son (Armando Silvestre) by transplanting an ape's heart into his chest. As one would expect, the results are slightly off-kilter, creating a hairy gorilla-man with a wrestler's physique who loves nothing more than to rape women and rip men's faces off. The only one who can put a stop to this horrific rampage is -- naturally -- a masked female wrestler (looking scarier than the monster!) who goes to the mat to teach the ape-man the error of his ways. As if this premise -- loaded with opportunities for nudity and explicit (though crude) gore murders -- weren't exploitative enough, the flying Cardonas splice in actual open-heart surgery footage to fully illustrate the Moreno's handiwork. The crowning moment (for the English-dubbed version, anyway) arrives when the cynical police chief dismisses the notion that the attacks are perpetrated by an ape-man: "It is more likely that you have been watching on your television too many pictures of terror!" Since its American release as Night of the Bloody Apes, this chunk of Mexi-horror sleaze has undergone numerous title changes in its quest for total anonymity, including Gomar, the Human Gorilla and the charmingly honest Horror and Sex. ~ Cavett Binion, Rovi
Critic Reviews for La Horripilante bestia humana (Night of the Bloody Apes)(Horror and Sex)(Gomar: The Human Gorilla)
Audience Reviews for La Horripilante bestia humana (Night of the Bloody Apes)(Horror and Sex)(Gomar: The Human Gorilla)
It's well made and a film for our VHS markets back in the day no doubt. And even the cover warns of its gory violence (To get people into viewing it). But its pretty bad without much going on throw the first scenes but it gets good somewhat. Still horrible prodcution values but a creepy looking setting for a mexican film. Horrible gore effects that are over the fucking top (They made that for markets that demaneded more gore not for Mexicans). The mutant boy/Ape looks okay. Worth watching if your a fan of Video Nasties and warning lables on Japanese VHS.
This video nasty from Mexico ain't shit but a good time. It had one very big thing going for it for me before I watched it; The most awesome title in film history! I was expecting it to be somewhere between Escape From the Planet of the Apes and Night of the Living Dead. What it actually reminded me most of the original Frankenstein, what with the mad scientist and the misunderstood monster and all. But where Frankenstein was making a social comment about scientists playing with things they don't fully understand, and then discarding and abandoning their failures, this is really just a surprisingly touching tale of a desperate man taking extreme measures in an attempt to save his son from cancer. How does he attempt to do this you ask? The same way any other rational doctor and loving father would. By transplanting his sons heart with that of a Gorilla. The results are predictably disastourous and bloody. The film features real surgery footage, really the only thing I can think of that would place this light hearted and entertaining film amongst the video nasty list. These scenes actually do add a much needed realism to a film that borders on the ridiculous throughout it's running time. Luckily it never boils over into the outright silly territory that it could have and what you are left with is a very entertaining, if slightly flawed low budget monster film. Recommended.
Ed Fucking Harris
Super Reviewer
Hilariously cheesy Mexican shocker. Good to watch for a laugh, mostly due to the humourously gory make-up effects. There's also a far bit of gratuitous nudity which was added for the international release of the film. Entertaining awfulness.
La Horripilante bestia humana (Night of the Bloody Apes)(Horror and Sex)(Gomar: The Human Gorilla) Quotes
There are no approved quotes yet for this movie.