La Momia azteca contra el robot humano (The Robot vs. the Aztec Mummy)
(1964)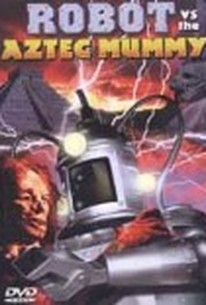 AUDIENCE SCORE
Critic Consensus: No consensus yet.
Movie Info
Experimenting in hypnotic regression to past lives, Dr. Almada discovers that his fiancée, Flor, is the reincarnation of an Aztec maiden who was put to death for loving an Aztec warrior, her body placed at the entrance of a hidden chamber in the Great Pyramid of Yucatan where the treasures of the Aztecs were hidden, and her lover mummified but cursed to remain alive and guard the treasure.
Critic Reviews for La Momia azteca contra el robot humano (The Robot vs. the Aztec Mummy)
Audience Reviews for La Momia azteca contra el robot humano (The Robot vs. the Aztec Mummy)
Terrifyingly stupid to watch. Things I've learnt watching this film: Mummies are scared of crosses, acid burn generates smoke, hypnosis is mind control, too make a robot you need a golf course and robots are made out of lego. It's so bad that I wanted to cry.
Sylvester Kuo
Super Reviewer
The story, the little there is of one, is hard to follow, the fake fights are stupid looking, and there are just so many things wrong with this movie. Don't waste your time with it.
With a movie title like that, how could I pass it up? By conventional standards this movie is horrible. By certain camp standards, it can be a lot of fun watching with friends. It has all of the right ingredients; a mad scientist named Dr. Krupp a.k.a. The Bat, a mummy looking for lost love, a damsel in distress, and a hero with a "Just For Men" hair-do. Most of the film is told in a series of flashbacks, which really doesn't matter since not much is happening on the screen at any given time. It's obvious the filmmakers tried to reach the feature-length running time by stretching out dialogue and other parts. The robot that Dr. Krupp creates is one of the most ludicrous screen creations I have ever seen. The robot legs (or robot pants) would seem to be the cheapest looking inventions ever, until the film features close-ups of the actual robot itself. Just when one thinks it can't get any better, there's the actual fight between the mummy "Popoca" and the robot . Too bad that most of the final thirty minutes of the film is spent with The Bat talking about how he will finally defeat the mummy and bragging about the robot he has made. Overall, the Aztec Mummy trilogy (Curse of the Aztec Mummy, Attack of the Aztec Mummy and Robot vs. Aztec Mummy) are disappointing relics of Mexican cinema, but can still be enjoyable in a juvenile, brainless way. What these films lack in technical mastery, they make up for in cheap 1950s pop culture zeal ideal for late night viewing. Is this a good movie? No. Did I enjoy it? Definitely.
El Hombre Invisible
Super Reviewer
La Momia azteca contra el robot humano (The Robot vs. the Aztec Mummy) Quotes
There are no approved quotes yet for this movie.