Mountain of the Cannibal God (La montagna del dio cannibale) (Primitive Desires) (Slave of the Cannibal God)
(1978)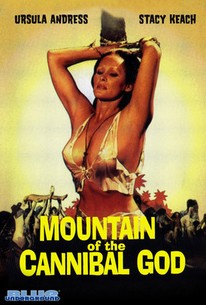 AUDIENCE SCORE
Critic Consensus: No consensus yet.
Mountain of the Cannibal God (La montagna del dio cannibale) (Primitive Desires) (Slave of the Cannibal God) Photos
Movie Info
After her husband vanishes in the New Guinea jungle, a woman (Ursula Andress) sets out to search for him and stumbles across a tribe of cannibals.
Critic Reviews for Mountain of the Cannibal God (La montagna del dio cannibale) (Primitive Desires) (Slave of the Cannibal God)
All Critics (3) | Fresh (1) | Rotten (2)
Mountain of the Cannibal God is probably the classiest of the entrail-ripping cannibal genre.
Mastication, masturbation, bestiality and castration. Yep, it's just another day in the professional life of 70s superstar auteur-en-Italiano, Sergio Martino.
Audience Reviews for Mountain of the Cannibal God (La montagna del dio cannibale) (Primitive Desires) (Slave of the Cannibal God)
Mountain of the Cannibal God is yet another horror shock fest dealing with cannibals. Filmed at the height of popularity of cannibal films, this exploitation horror shocker is along with Cannibal Holocaust one of the most depraved films of the genre. Mountain of the Cannibal God is a good film, but it have done without the graphic sexual content. The film was effective and horrifying enough without those elements thrown in. Mountain of the Cannibal God will appeal to fans of Italian exploitation cinema, as this film is one of the prime examples of the genre. The cast are decent at best in their parts, there's never anything really great going on, on-screen, however this still is an entertaining film. The plot is quite interesting, and the film manages to be a decent entry in the Cannibal genre. However like I said, the film could have been trimmed slightly and the graphic sex toned a bit, as whole, I felt it didn't add anything to the film, and it kind of cheapened the terrifying experience. Otherwise the film would have had a higher rating in my book. For me it takes a lot to be shocked, and well the scenes of depraved sex acts actually were like wtf? I can understand that these elements are essential and a must for a cannibal film, but man this was really messed up. Oh well, overall aside from that, I enjoyed the film, and we get to see Ursula Andress naked, so it's not too bad. Mountain of the Cannibal God is yet another prime example of a classic Italian exploitation film. The film is shocking in its depravity, but I guess that's what makes these films so unique, their ability to push the boundaries of good taste. If that's the case, then this film most certainly does that very well.
A new addition to my "so bad, it's good" list. We saw the uncut "European version", I recomend you do the same. If you can get past the horribly gratuitous animal torture (which is apparently of the "set-up by the crew" and not "caught in the act" variety) and the lack of continuity (both visually and story wise) - this film is exactly what you would expect it to be, A campy jungle romp with Ursula Andress leading us from one exquisitly lit, cleavagefull (vaseline drenched lense) shot after another. Through jungles, on the beach, in the sea, in a river, climbing up waterfalls and mountains - all in beige (knee high) high heeled leather boots. While there really aren't many surprises story wise...the amount of continuity gaffes, ridiculous (and entirely too long) shots of jungle animals, nudity and simulated sex is surprising and FUN! It's worth sitting through the first hour and a half, just to watch the final scenes that take place in "the mountain of the Cannibal God".
½
I decided to buy the uncut and digitally remastered version of 'Mountain of the Cannibal God' after having read some online reviews, (which were pretty mixed), and after having watched the trailer for the film on some of the other Vipco Screamtime Collection DVDs. The Horror film genre is one that particularly interests me, as does the sub-genre of Cannibalism and films that have been previously banned, and I feel that this film delivers all that can be expected of it. There are interesting plot twists and developments, (although the story is very straight-forward), the dialogue is simple but effective and well executed for a film of this genre, it has the former Bond girl Ursula Andress 'in all her beautiful glory', it has an intriguing musical score, lashings of violence and gore that are shot in a fairly realistic fashion, and even an annoying cannibal dwarf! What more could you possibly ask for? Although perhaps at not quite the same level of entertainment and cinematic quality of a film like 'Cannibal Holocaust', which is far more tense and shocking, this is nevertheless an extremely highly under-rated and enjoyable film that is more than well worth a look if you are interested in this type of genre. However, if you do not like this type of film, then it certainly isn't a film for you - just leave us enthusiasts to enjoy and appreciate it in our own company. The DVD sleeve hails it as 'one of the best cannibal films you'll ever see' - and I must say that I wholeheartedly (excuse the pun) agree. Go watch it now!
Cassandra Maples
Super Reviewer
Mountain of the Cannibal God (La montagna del dio cannibale) (Primitive Desires) (Slave of the Cannibal God) Quotes
There are no approved quotes yet for this movie.