La répétition (Replay)
(2001)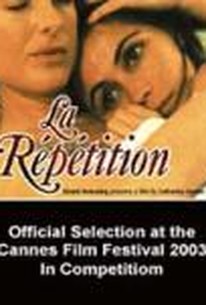 AUDIENCE SCORE
Critic Consensus: No consensus yet.
Movie Info
Friendship turns to love, and unrequited love leads to a dangerous obsession in this moody drama. Nathalie (Emmanuelle Beart) and Louise (Pascale Bussieres) grew up together and had been close friends since childhood, but while both were studying drama in their early twenties, their friendship went through an abrupt shift -- while beautiful Nathalie enjoyed flirting with the men in her classes, Louise's interest in her best friend turned into infatuation, and when Nathalie indulged herself in a brief fling with a young actor, Louise was overcome with anger and jealousy and tried to kill herself. Nathalie was told by Louise's family that she didn't want to see her any more, and a decade passed before their paths would cross again. Louise is now married to a man named Nicolas (Sami Bouajila), and one night they go to the theater to see a touring production of a new play. To her surprise, Louise discovers the female lead is played by Nathalie; after the show, she slips backstage to say hello, and soon finds that she's as strongly attracted to Nathalie as ever -- and that Nathalie is involved with Matthias (Dani Levy), the gifted but difficult playwright who wrote and directed the production. Leaving Nicolas behind, Louise follows Nathalie to Denmark, and is able to pull a few strings to get Nathalie an audition with Walter Amar (Jean-Pierre Kalfon), a well-known and well-respected theatrical director. Nathalie soon leaves Matthias' show to star in Amar's new production of +Lulu, and Louise volunteers to help Nathalie as she prepares for the role. Nathalie appreciates Louise's support and friendship, but she soon begins to chafe under Louise's obsessive attention, and she wonders if history might be repeating itself. La Repetition was shown in competition at the 2001 Cannes Film Festival, with writer and director Catherine Corsini earning a nomination for the coveted Golden Palm award.
Critic Reviews for La répétition (Replay)
All Critics (2) | Fresh (0) | Rotten (2)
The garish, self-hating-lesbian-themed flick, La Répétition, is a garish enjoyment, sort of like dreaming k.d. lang is romancing you, only to wake up to discover your dachshund is where he shouldn't be.
Audience Reviews for La répétition (Replay)
Unsatisfying character study of two women who share an unhealthy relationship throughout the years. Pascale Bussieres is Louise, a periodontist, who is the more possessive and Emmanuelle Beart is Nathalie, a stage actress, who prefers a more open lifestyle. The depth of their intimacy is not clear until about midway through, and similarly much of the rest of their relationship lacks clarity for the viewer to get intricately involved. It doesn't help that Louise is manipulative and selfish, yet she's preferable to Nathalie's playwright boyfriend Matthias (Dani Levy) who redefines the epithet 'asshole.' I felt sorry for Nathalie caught between these negative influences, but then she too abruptly changes her behavior which left me wondering whether several scenes got accidentally left on the cutting-room floor?

The English title I have seen attached to this film is Replay, but actually 'La Repetition' means Rehearsal as Nathalie attends a series of rehearsals for a play by a big-name producer, much to the anger of Matthias. Is this a metaphor for her life, that she is doomed to repeat the same role with these malcontents until she summons the strength to find and accept her true nature? I believe that's giving writer/director Catherine Corsini too much credit by trying to do her work for her.
Doctor Strangeblog
Super Reviewer
La répétition (Replay) Quotes
There are no approved quotes yet for this movie.