In Mom's Head (La tête de maman)
(2007)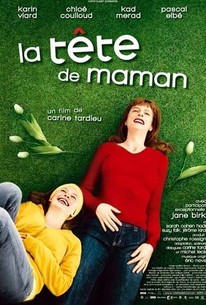 AUDIENCE SCORE
Critic Consensus: No consensus yet.
In Mom's Head (La tête de maman) Photos
Movie Info
First-time director Carine Tardieu's gentle and evocative coming-of-ager La Tête de Maman concerns Lulu (Chloë Couloud), an adolescent girl whose mother (Karin Viard) sits perpetually on the brink of illness and radiates unhappiness; she is resolutely unhappy with her husband, unhappy with the present state of her life. Concerned about her mom's emotional condition, Lulu discovers an old photograph that suggests the source of her dissatisfaction: a love affair gone sour with a young man who abandoned her, several years before Lulu's birth. To win back her mother's "smile," Lulu sets out to locate her mom's old boyfriend - now a middle-aged veterinarian - and bring him back to her mother's side. She also discovers, over the course of this mission, that her mom is now suffering from a terminal illness and sits at death's door. The character of Lulu narrates throughout, and periodically defers, in the midst of dilemmas, to her heroine, the model-turned-actress Jane Birkin (who appears from time to time, playing herself).
Critic Reviews for In Mom's Head (La tête de maman)
All Critics (1) | Fresh (1) | Rotten (0)
Seduces with a surprisingly dense narrative and a decidedly French take on the role of extramarital affairs and everyone's undeniable right to happiness.
Audience Reviews for In Mom's Head (La tête de maman)
A sinful and seductive scheme to claim the once lost first love and right to happiness, In Mom's Head is a quirky, passive-aggressive, and energetic narrative that values reality over fantasy. Radiant.
Jan Marc Macababayao
Super Reviewer
This French film brings us wonderfully crafted story of a young girl and her determination to discover the truth behind her mother's enduring depression and illness. I'll have to mention right at the beginning Karin Viard exceptional role where she plays the inexplicably complicated character Juliette who's only passion seems to be the goings on of her own intestines, a symptom of her mysterious illness. In Mum's Head, a charming cameo from singer and actress Jane Birkin as the mother of Lulu's fantasies is followed by graphic daydream sequences as Lulu hypothesises...what's in mum's head? Imagine fifteen-year-old Lulu who wonders why her mother Juliette sits on a bench outside their country house and stares into space day after day seemingly without a passion for life... and after that imagine her finding a picture of her mother young, topless and radiant, which is a world apart from her mother's current sad facade. Later, snooping around she reveals a hidden Super 8 tape which shows her mum frolicking care free with a handsome young man. Lulu believes if she can find the man in the tape it might help her mum find closure and happiness as she is convince her mum's true love got away... If you have a chance to ever see this real art work of Carine Tardieu from the official selection of the Cannes festival, just do it - and enjoy it in full!
In Mom's Head (La tête de maman) Quotes
There are no approved quotes yet for this movie.