Passionate Life of Edith Piaf (La môme) La Vie En Rose
(2007)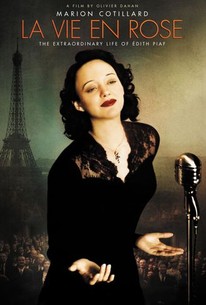 TOMATOMETER
AUDIENCE SCORE
Critic Consensus: The set design and cinematography are impressive, but the real achievement of La Vie en Rose is Marion Cotillard's mesmerizing, wholly convincing performance as Edith Piaf.
Passionate Life of Edith Piaf (La môme) La Vie En Rose Photos
Movie Info
Writer/director Olivier Dahan (Crimson Rivers II) helmed La Vie en Rose, the screen biopic of tragic French songstress Edith Piaf. Marion Cotillard portrays Piaf, the superstar once raised as a young girl by her grandmother in a Normandy bordello, then discovered on a French street corner -- as a complete unknown -- by cabaret proprietor Louis Leplée (Gérard Depardieu). The film segues breezily between various episodes from Piaf's life -- such as her lover, French boxer Marcel Cerdan's (Jean-Pierre Martins) championship bout in mid-'40s New York; her period in Hollywood during the '50s; Piaf's abandonment as a young girl by her contortionist father (and earlier by her mother, a street singer); her brushes with the law as an adult; and her 1951 car accident and subsequent morphine addiction that caused her to age well beyond her years and left her barely mobile; and, through it all, her ability (like Billie Holiday) to funnel personal tragedy and emotional struggles into her vocalizations -- dazzling audiences in the process. ~ Nathan Southern, Rovi
News & Interviews for Passionate Life of Edith Piaf (La môme) La Vie En Rose
Critic Reviews for Passionate Life of Edith Piaf (La môme) La Vie En Rose
Audience Reviews for Passionate Life of Edith Piaf (La môme) La Vie En Rose
La Vie en Rose needs more than one viewing to understand what the filmmakers are trying to say. I loved the way Olivier Dahan took Edith Piaf's life, and took it for what it was. Her life is a very depressing and sad story with happiness and relevant parts scattered throughout. Basically, the life of famed french singer Edith Piaf is life is like a scattered puzzle. Random pieces are found when we are looking for something else. The movie really tries to show the way she lived her life in the way they put the film together. It jumps back and forth, sometimes without giving timelines, she's old in one scene, and young in the next. While I was watching the film, I got very confused, and near the end of it's almost 2.5 hour running time, I felt like the film was starting to drag. Maybe that's partly because I didn't understand the film for what it was. The cinematography, the sets, the art direction, and costumes were all very impressive. The music was wonderful and made me feel like I was in Paris. Edith Piaf's voice is just marvellous and I think it can connect with anyone no matter who they are. But I think the main reason this film is a must see is for no other reason than Marion Cotillard. I only have one word for that performance as Edith Piaf: Jaw-dropping. She simply becomes Piaf. I mean there is no Marion Cotillard in there, it's all Piaf. That performance is probably one of the best of the last decade. So overall, La Vie en Rose is an artsy, sad and depressing biopic on France's famed singer Edith Piaf with a simply mesmerizing performance from Marion Cotillard.
Raymond Wieser
Super Reviewer
Good lead performance in a very average bio pic.
Tsubaki Sanjuro
Super Reviewer
La Vie En Rose is an incredible biopic on famed French singer Edith Piaf. Brilliantly acted and directed, Edith Piaf is wonderfully portrayed by actress Marion Cotillard who delivers the greatest performance of her career. La Vie En Rose is a phenomenal drama film, and it portrays the struggles and sadness of singer Edith Piaf perfectly. An incredible film that is brilliantly acted, directed and above all, told is captured on film. The result is a flawless film that depicts a sad individual. Edith Piaf led a turmoiled life, and every bit of it is brilliantly captured on film. The result is quite possibly the greatest biopic ever filmed. Marion Cotillard is the perfect choice to play Edith Piaf, and she really looks the part. I think she definitely deserved the Oscar for her performance. The rest of the cast do a terrific job as well, and each of them brings something truly wonderful to this already impressive work. La Vie En Rose is a phenomenal portrait of a singer who led a melancholic lifestyle. A superb film in every respect, La Vie En Rose is one of the essential biopics and not since Clint Eastwood's Bird has a picture been this vivid in showing the conflicted and troubled side of famed artist. This is a powerful film, and one that you won't easily forget. You'll come to understand Edith Piaf and her struggles, but you'll also admire her gifts. A beautiful and stunning film.
Passionate Life of Edith Piaf (La môme) La Vie En Rose Quotes
| | |
| --- | --- |
| USA Journalist: | If you were to give advice to a woman, what would it be? |
| Edith Piaf: | Love. |
| USA Journalist: | To a young girl? |
| USA Journalist: | To a child? |