La Zona
(2007)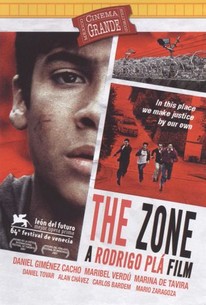 Movie Info
At a time when the growing chasm between the rich and the poor appears to be slowly tearing Mexico - and many other Latin countries - apart, first time filmmaker Rodrigo Plá highlights just how isolationism breeds fear in many wealthy communities. Alejandro (Daniel Tovar) lives with his father Daniel (Daniel Giménez Cacho) and his mother Mariana Maribel Verdú) in an isolated community known as La Zona. La Zona is home to the most privileged citizens in Mexico, but with all of the gates and closed circuit cameras it feels more like a million dollar prison than a typical neighborhood. Eventually, a group of disadvantaged teenagers manage to break into La Zona. As the members of the community scramble to protect their families at any cost, one of the teenaged burglars, a frightened boy named Miguel (Alan Chávez), seeks cover in the basement of Alejandro's home as his friends scatter. Later, when Alejandro discovers the young fugitive, the privileged boy's growing empathy for the petty thief and murder suspect leads him to question the values imposed on him by his father as well as the many other isolationists who have taught him to fear his fellow countrymen.
Critic Reviews for La Zona
Audience Reviews for La Zona
½
Efficient if unspectacular drama probing the ethics of gated communities. Benefits from its setting in Mexico but says little new that American films (and particularly German 'The Edukators' ) haven't explored adequately.
Gordon Anderson
Super Reviewer
½
It?s easy to get a little lost in the storyline early on here, the acting is of a good standard, but have to admit that I found odd moments boring at times, however the last 15 minutes or so totally make this film and has a very hard impact that insists you take notice.
Lady D'arbanville
Super Reviewer
This film was an excellent selection playing at this year's San Diego Latino Film Festival. I doubt if it will receive any sort of promotion or theatrical release in America, but it should. This is the story of a blocked-off community in the heart of Mexico City. The gated neighborhood is called La Zona and it is a sole entity in the eyes of the city. The residents of this zone have made a pact with the city to be left alone and live in peace. They abide by their own rules and have their own committee which mimics a sort of small-scale government. However, one night--a breach in security allows for three outsiders to intrude the zone and a manhunt is soon in place to find the men who pose a threat to the safety and security of their idealistic village. The film is magnificent in its message and social commentary. The performances of every member of the cast were brilliant and brought such gravitas to a project that had potential based on its story; but really needed good actors to carry it through. The film relies on world-events to make its point loud and clear. It evokes a plethora of emotions in the audience and makes for a really entertaining time--plus it brings a refreshing look at the way we see one another in the world--whether its people living across the street or across an ocean.
Rico Zamora
Super Reviewer
La Zona Quotes
There are no approved quotes yet for this movie.