Labyrinth
(1986)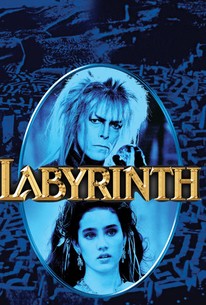 TOMATOMETER
AUDIENCE SCORE
Critic Consensus: While it's arguably more interesting on a visual level, Labyrinth provides further proof of director Jim Henson's boundless imagination.
Movie Info
Fifteen-year-old Sarah resents her baby brother Toby and secretly wishes that he will just disappear. Her wish comes true when goblins kidnap the boy. Feeling responsible and guilty about his abduction, she sets forth to retrieve him, and finds herself on the adventure of a lifetime. To rescue her brother, she must sneak into the castle of the Goblin King, which is in the center of a fantastical labyrinth. But, the task is easier said than done, for the maze is filled with strange creatures and mind-bending puzzles, and nothing is really as it seems.
News & Interviews for Labyrinth
Critic Reviews for Labyrinth
Audience Reviews for Labyrinth
½
This typical 80s muppet adventure contains all the highlights and lows of the era: a pop soundtrack by David Bowie (who is also a fine villain), a simple but enthralling story, lovable characters that sometimes burst into songs, but also some cheesy lines, dated special effects and a simplistic plot. Of course, none of those things mattered if you saw this film at the right age when it came out. Most of the dolls still look pretty fine and especially unique today and there are some amazing visual effects in the film. Jennifer Connelly started her great career with this and the Henson studios once again proved that they are the masters of puppets. It's easy to find flaw in this film today, but for its time it was pretty outstanding and still works for an entertaining rainy afternoon now.
½
A delightful fantasy adventure clearly inspired by The Wizard of Oz (the book appears in at least two scenes) and fairy tales (even a poisoned fruit is there), and its dated visual effects and cheesy musical numbers have a charm only found in these movies of the '80s.
Carlos Magalhães
Super Reviewer
Terribly disappointing. I'm not a fan of muppets anyway, and the campy faux musical numbers go nowhere. Sarah is such a brat at the beginning; her dad and stepmother aren't THAT cruel or negligent. She seems to go after the stolen Toby only out of self-preservation, not out of any fraternal love or filial piety. Her reason for loving her brother isn't shown or found, and there's no reconciliation with her parents in the end. The intended theme of the movie seems to be about growing up or learning responsibility, but there are no specific challenges that test those waters. There are no compelling plot points, no rising action or climax - just a bunch of traveling with some surface friendships, some chases, and not enough riddles. The provenance of the key to defeating the Goblin King ("You have no power over me") is also slightly vague. Sarah seems to recite from a play in the first scene, but it's unclear that the labyrinthine dreamscape she unlocks is from that same play/book (which I learned from the DVD case synopsis was her favorite book), and the secret weapon was in the book the entire time; she need only to remember it. The vaguely bondage/domination desires of the Goblin King are creepy but almost not creepy enough. There's no real sense of romance, but there's no real sense of danger for this age-inappropriate flirtation either, so what's the point?
Alice Shen
Super Reviewer
Labyrinth Quotes
| | |
| --- | --- |
| Jareth the Goblin King: | Live without your sunlight, love without your heartbeat |
| | |
| --- | --- |
| The Worm/The Four Guards/Goblin: | Come inside and have a cup of tea! |
| The Worm/The Four Guards/Goblin: | Come inside and have a nice cup of tea! |
| | |
| --- | --- |
| Jareth: | Everything I've done, I've done for you. I move the stars for no one. |
| | |
| --- | --- |
| Jareth: | You remind me of the babe. |
| Goblin: | What babe? |
| Jareth: | The babe with the power. |
| Goblin: | What power? |
| Jareth: | Power of voodoo. |