Labyrinth of Passion
(1982)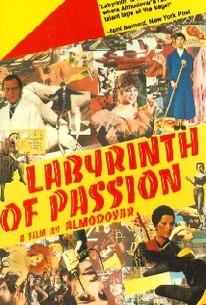 Labyrinth of Passion Photos
Movie Info
This early offering from Spanish filmmaker Pedro Almodovar is a screwball sex tale of mistaken identity focusing on the director's usual collection of oddball characters, primarily a female punk rocker, an incestuous ob-gyn and a noblewoman desperate to be artificially inseminated with a sperm sample from the Iranian imperial family.
Critic Reviews for Labyrinth of Passion
Audience Reviews for Labyrinth of Passion
Pedro Almodovar began to find his style with his second feature "Labyrinth of Passion." His direction is a bit shaky, and he hasn't quite figured out yet how to pace and edit a large-cast, multi-subplot film. The many characters aren't easy to keep straight (pun intended), but their interwoven adventures manage to loosely coalesce by the end. There's something to offend everyone here: casual incest, flamboyant homosexuality, transsexuality, drugs, nymphomania, artificial insemination and possibly the most disgusting poop joke ever (but surprisingly, not too much nudity). Most of the action centers around a visiting Middle Eastern prince who is exploring Madrid's debauched club scene incognito. He sings in a band. He beds people of both sexes. He avoids terrorists (including Antonio Banderas, so young he's almost unrecognizable, playing a lad with an impossible ability to track like a bloodhound). Oh, and there's also a sexy pop star who can't figure out why she's afraid of the sun. Naturally. Almodovar himself has a fun cameo as an effeminate singer.
Eric Broome
Super Reviewer
½
early Almodovar tale of a gay terrorist, a nymphomaniac, and a Prince.
Marcus Woolcott
Super Reviewer
Early and great Almodovar! We start to see what become recurring themes in his later films - homosexuality, prostitutes and cross dressers..all representing deep held emotions and feelings that are experienced by us all.
John Ballantine
Super Reviewer
Labyrinth of Passion Quotes
There are no approved quotes yet for this movie.