Ladder 49
(2004)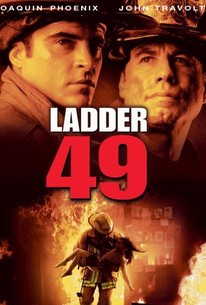 Movie Info
Baltimore firefighter Jack Morrison, making the transition from inexperienced rookie to seasoned veteran, struggles to cope with a risky, demanding job that often shortchanges his wife and kids. He relies on the support of his mentor and captain, Mike Kennedy and his second family--found in the brotherly bond between the men of the firehouse. But when Jack becomes trapped in the worst blaze of his career, his life and the things he holds important--family, dignity, courage--come into focus. As his fellow firemen of Ladder 49 do all they can to rescue him, Jack's life hangs in the balance.
Critic Reviews for Ladder 49
Audience Reviews for Ladder 49
½
All my life, I've always wondered what it would be like to work as a firefighter. The excitement, the comradery and the opportunity to save lives. There's so many things that makes it an appealing career-choice. This movie captures it all really well, and gives you a good sense of what life must be like for these every-day heroes. Through some top notch directing and the dynamic chemistry between its cast members (with Joaquin Phoenix and John Travolta at the peak of their talent), we are treated to a highly absorbing experience, filled with humor, action and intense dramatic moments. Quite sad in a lot of places, but a movie that I'm glad I gave the chance. Because what I had initially dismissed as a standard-type drama, actually had a lot more to give than I gave it credit for. So if you're gonna watch a movie about fire-fighting, this is definitely the one to go for.
½
A very good, action drama about the life of a firefighter seen in flashbacks. It's quite entertaining, seeing him work his way from rookie to the experienced fireman and how things change over the years. A very fine cast it has to be added and the fire, action scenes are really good. Well worth checking out.
Quite possibly the worst Joaquin Phoenix film. Ladder 49 is a crappy drama film with overused cliches and we've already seen it all before. A bad Fireman film this is just a pointless excuse for a film. I view this film as a Backdraft ripoff, it borrows from many plot elements from that film. Ladder 49 never really does anything very dramatic as it follows closely every dramatic cliche in the book, in other words; we've seen it all before. A total waste of time and definitely not a good film. A film with bad script, bad acting and bad plot, this is a film to miss.
Ladder 49 Quotes
There are no approved quotes yet for this movie.