Ladies of the Big House
(1931)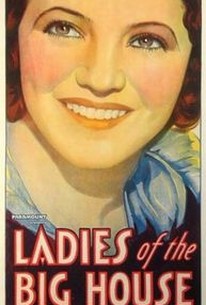 AUDIENCE SCORE
Critic Consensus: No consensus yet.
Ladies of the Big House Photos
Movie Info
Sylvia Sidney is again in her "victim" mode in Paramount's Ladies of the Big House. Shortly after their wedding, young innocents Kathleen (Sylvia Sidney) and Standish (Gene Raymond) are arrested for murder on circumstantial evidence. The poor kids don't have a chance: the case is being prosecuted by crooked district attorney Doremus (Rockliffe Fellowes), while the local reporters have a field day crucifying Kathleen in the press thanks to her dubious relationship with the dead man. The couple is found guilty, whereupon Kathleen is thrown into a cell block with several hardened female cons. Hoping to save her husband from going to the electric chair, Kathleen participates in a prison break. There are many more hardships and disasters in store for our heroine before she is able to prove Standish's innocence. If the script of Ladies of the Big House seems a bit more authentic than usual, it may be because it was written by an actual prison convict named Ernest Booth.
Critic Reviews for Ladies of the Big House
Audience Reviews for Ladies of the Big House
½
It's a little contrived how two young lovers end up in prison on false charges, and you'll have to suspend disbelief over the judicial processes in this film. If you can get past the set-up, you will probably enjoy the performances, particularly those behind bars. Sylvia Sidney is a revelation, and really delivers here. We see close shots of her pretty face amidst flowers early on, and she progresses through scenes of outrage over their false imprisonment, and passion in saying good-bye to her husband in his jail cell, all of which are wonderful. When you hear 'pre-code women's prison film' you may have an impression based other films, such as 'Ladies They Talk About' (1933), but this one is refreshing in its portrayal of the inmates. There are no lecherous references or other exploitation, for one thing. The performances are also strong, from the inmate who hates Sidney's character (Wynne Gibson), to the one who befriends her (Louise Beavers). It also has an edge in its dialogue, and in showing a row of agitated prisoners rattling their bars and hollering, something we've seen many times through the years, but this is 1931. On the men's side of the prison (...as for the 'Gentlemen of the Big House'), Gene Raymond has some touching moments with a fellow inmate on death row, played well by Rockliffe Fellowes. There are also some nice camera angles employed from director Marion Gering, as well as a dramatic scene on the water that looked scarily realistic. Overall, not great, but a reasonably good film.
Antonius Block
Super Reviewer
Ladies of the Big House Quotes
There are no approved quotes yet for this movie.