Ladrón que Roba a Ladrón
(2007)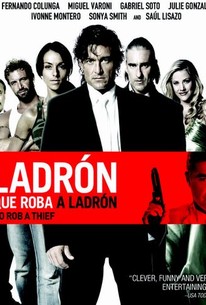 TOMATOMETER
AUDIENCE SCORE
Critic Consensus: The light and comic Ladron que roba a Ladron isn't deep or hugely substantial, but it's still a very fun heist flick nonetheless.
Ladrón que Roba a Ladrón Photos
Movie Info
Two crack thieves, Emilio and Alejandro, reunite to rob the biggest thief they know--Moctesuma Valdez, a TV infomercial guru who's made millions selling worthless health products to poor Latino immigrants. Valdez's empire is next to impossible to infiltrate. But Emilio and Alejandro know if they go undercover as day laborers - chauffeurs, gardeners, maids, and repairmen--they can rob Valdez blind right under his nose. It's a perfect plan... except that no one on their team wants the job. Refusing to give up, Emilio and Alejandro come up with a solution so insane it might just work--use real day laborers. Within days, they form a team of criminal amateurs with just the right skills. There's Julio, a TV repair shop employee who's also an electronics expert, Rafa and Rafaela, a valet and his mechanic daughter in charge of transportation, Miguelito, a Cuban refugee actor and master of disguises, and the metro-sexual ditch digger, Anival, who plays the token heavy. None of them has ever committed a crime in their lives, but this motley crew of underdogs--so often taken for granted--is ready to face impossible odds and "receive 100 years of forgiveness." "Ladron Que Roba a Ladron" proves that being underestimated is sometimes your best advantage.
Critic Reviews for Ladrón que Roba a Ladrón
Audience Reviews for Ladrón que Roba a Ladrón
Lighthearted caper concerns two career criminals who assemble a hand-picked team to rob an unscrupulous millionaire. They hire immigrants they believe will be underestimated with the required skills but no criminal experience. The struggling actor, the chauffer, the television repairman, etc. It's an eclectic group. Bright, colorful production coupled with a sincere and unaffected desire to entertain. Make no mistake, this is fairly typical stuff. It kind of plays out like a Spanish language version of an American heist movie with actors from telenovelas. It's almost impossible to describe without comparing it to Ocean's 11. True, it gets a bit routine at times, but it's also extremely entertaining and in no way boring. That Hollywood series ultimately came come off as somewhat smug, particularly by Oceans 13. What makes this Mexican film with English subtitles unique is in its utter lack of pretension. The story's structure is decidedly old-fashioned. The script is definitely funny, but it never feels like it's trying hard to be hip and that sincerity is refreshing. The title, from a Latin-American proverb that translates "the thief who robs a thief earns 100 years of forgiveness".
Mark Hobin
Super Reviewer
½
Funny and yet brilliant robbery of a informercial guru...that deserved to get robbed. Nobody deserves it but if wrong can revenge wrong....why not go for it! Worth seeing to find out if they pull it off. Check it out.
Fascade Fiveoneeight
Super Reviewer
½
A modest, moderately clever heist picture with a distinctly Hispanic flavor.
William Goss
Super Reviewer
Ladrón que Roba a Ladrón Quotes
There are no approved quotes yet for this movie.