Lady Bird
(2017)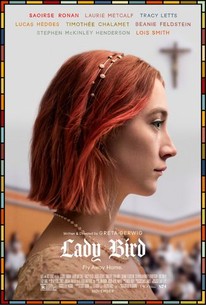 TOMATOMETER
AUDIENCE SCORE
Critic Consensus: Lady Bird delivers fresh insights about the turmoil of adolescence -- and reveals writer-director Greta Gerwig as a fully formed filmmaking talent.
Movie Info
In Lady Bird, Greta Gerwig reveals herself to be a bold new cinematic voice with her directorial debut, excavating both the humor and pathos in the turbulent bond between a mother and her teenage daughter. Christine "Lady Bird" McPherson (Saoirse Ronan) fights against but is exactly like her wildly loving, deeply opinionated and strong-willed mom (Laurie Metcalf), a nurse working tirelessly to keep her family afloat after Lady Bird's father (Tracy Letts) loses his job. Set in Sacramento, California in 2002, amidst a rapidly shifting American economic landscape, Lady Bird is an affecting look at the relationships that shape us, the beliefs that define us, and the unmatched beauty of a place called home.
Critic Reviews for Lady Bird
Audience Reviews for Lady Bird
Quirky, funny, sad and true take on a certain stage of adolescence relying on great characters and actors, a fine choice of music. An all around pleasant experience. I would have had no issue with Gerwig taking the directing Oscar for this.
Good teen girl angst movie, but lead character kind of made me want to strangle her ??
Nicki Marie
Super Reviewer
½
It's easy to look at films like Lady Bird and think of it as being a pretentious piece of cinema, but there's so much explored under the surface here that makes almost every one of those arguments invalid. I may be slightly biased in terms of enjoying dramas like this, but I genuinely feel that many people will be able to relate to at least one aspect of this movie. This is the definition of an indie film making its way into the mainstream and I must warn that it's not going to be for everyone. Here's why I think you may just fall in love with this movie under the right circumstances. Following a young woman as she awkwardly makes her way through her senior year of high school, Lady Bird explores popularity, family issues, jealousy, and numerous other issues that teenagers face on a daily basis, so if you go into this film having already experienced those years of your life, I guarantee there will be a section of this movie that you can relate to. This is what makes movies like this worth watching, at least in my opinion. It's really just a slice of life about a woman who goes by the alias "Lady Bird" throughout the majority of the film. There are many off-beat sequences and characters throughout this film that may turn many viewers off, but I believe they're saved by a tremendously committed performance by Saoirse Ronan. Ronan's performances have always been highlights of every movie she chooses, and Lady Bird is no exception to that statement. Her interaction with her friends, family members, classmates, and teachers all felt incredibly realistic. There are moments where her lines of dialogue do feel scripted which took me out of a few moments, but her delivery is always incredible, so that makes up for the fact that you may feel like you're watching just any old indie film. Her performance makes this film soar, but I think the real star of the show is the editor. The way this film's put together almost felt like a master had been at work for years on a passion project. The editing choices and the overall flow of each and every scene are truly what hooked me on this film more than I thought I would've been. Quite honest, the editor of this film played his own role in this movie, making a possibly boring aspect of the story unique to watch. The use of certain songs being played over and over again also became its own character in the story. Although this may not make it on my list for best films of 2017, I can truthfully say that Lady Bird is one of the more technically impressive films, even if not for effects. In the end, Lady Bird didn't blow me away in terms of storytelling, but the way the film is put together impacted me greatly. That, along with terrific performances and a solid exploration of the psyche of teenagers, really had me applauding by the time the credits began to roll. Personally, I felt as though there were many aspects to love about this movie, but I can't see everyone having the same reaction as I did, especially average moviegoers who aren't used to out-of-the-box filmmaking. As far as the story goes, many independent films have tackles this premise throughout the years, but it's all about how your film is presented and how it emotionally impacts its viewers, and I feel as though Lady Bird does that beautifully. The re-watchability isn't very present here, but it's a nearly flawless one-time viewing experience. Highly recommended to film fans.
Lady Bird Quotes
There are no approved quotes yet for this movie.