Lady in the Water
(2006)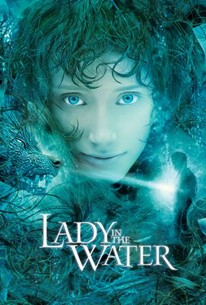 TOMATOMETER
AUDIENCE SCORE
Critic Consensus: A far-fetched story with little suspense and unconvincing scenarios, Lady In The Water feels contrived, pretentious, and rather silly.
Movie Info
A modest building manager named Cleveland Heep rescues a mysterious young woman from danger and discovers she is actually a narf, a character from a bedtime story who is trying to make the treacherous journey from our world back to hers. Cleveland and his fellow tenants start to realize that they are also characters in this bedtime story. As Cleveland falls deeper and deeper in love with the woman, he works together with the tenants to protect his new fragile friend from the deadly creatures that reside in this fable and are determined to prevent her from returning home.
News & Interviews for Lady in the Water
Critic Reviews for Lady in the Water
Audience Reviews for Lady in the Water
Talk about a director losing his touch! "Lady in the Water" is a very simple story about a mythical woman who rises from the water. Discovered by an apartment owner and his peers, they begin to uncover the secrets of why she is there and how to send her home to release the terror surrounding the tenants at the apartment building. Sound dumb? That is because it undoubtedly is. Sure, I left out quite a few details there, but this film does not warrant a full commentary. Paul Giamatti gives his all in his performance, but I just did not buy any of the dialogue that anyone was saying, so that took me out of every scene. Bryce Dallas Howard is laughable as the title character and the mystical thematic elements surrounding her are incredibly comical (unintentionally so). There are some undeniably well-shot moments, but that is seen throughout all of Shyamalan's work. It all comes down to the story here, which is one of the most ludicrous (albeit original) ideas I have viewed in a very long time. "Lady in the Water" is a train wreck of a fantasy film. I hated every second of it.
½
Offensive for the critics, the director put himself in a role, where he is a future hero for the world that write beautiful things and Bob Balaban's role is a intelligent, but rude critic that have a violent end. Lady in the Water present a charming cast and a interesting script, but become sort of a magic cliche movie.
Lucas Martins
Super Reviewer
Okay, so this isn't quite the complete and utter failure that I had been led to believe that it was...but still, it is pretty bad. The film is basically a fairy tale bedtime story concerning Cleveland Heep- the superintendent of an apartment complex who discovers a sea nymph who entered into our world through the pool at the apartment cocmplex. She tries to get back to her world, but she's threatened by menacing creatures, and requires help from Cleveland and the various colorful tenants of the building. Just looking at the broad concept (a supernatural thriller/fairy tale sort of bedtiem story thing) this isn't too bad. It's kinda unique, though the execution of it all is where there's trouble. The specific story itself is a little hokey, the script is atrocious, the cast, while notable, give some really dry, wooden, and downright awful performances, and to top it all off, the jokes suck, the film is unintentionally funny, there's tons of cliches, the bits where the 4th wall is broken really fall flat and induce facepalms, and it's all a bit of a bore and I didn't care too much. Also, Shyamalan really shows his narcissism here, but I won't spoil it by detailing specifics. But, since I did give it a barely passing grade, that means it's not all bad. LIke I said, good cast, terrible work. The cinematography is quite wonderful (as should be expected), the direction is decent (I've always felt that Shyamalan was a far better director than a writer) but he's been far better, and I do think Howard is pretty, even if she often gets miscast or misdirected. So yeah, bottom line, this film does mostly live up to its reputation. I liked some aspects of it, but it is essentially a really poor misguided piece of work.
Chris Weber
Super Reviewer
Lady in the Water Quotes
There are no approved quotes yet for this movie.