Ladybugs
(1992)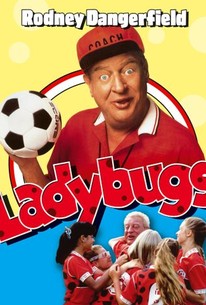 Movie Info
Rodney Dangerfield plays it cute in this comedy directed by veteran director Sidney J. Furie. Dangerfield plays Chester Lee, a man so anxious for a promotion that he agrees to coach a girl's soccer team his company is sponsoring. If the team has a winning season, Chester will get his promotion. The only problem is that Chester knows nothing about soccer and the team is incompetent. If Chester doesn't get his raise he won't be able to marry his sweetheart Bess (Illene Graff), so he persuades his son Matthew (Jonathan Brandis), who is an expert soccer player, to don a wig and join the team as one of the girls. With Matthew on the team, they make their way to the championship, but Bess discovers the ruse and forces Chester to chose between her and the job.
Critic Reviews for Ladybugs
Audience Reviews for Ladybugs
We all have our own guilty pleasure, most of them we never admit to, however I will admit one now. I have loved this movie ever since I was a kid. Now that I've watched it as an adult, I can admit that it is one terrible movie, but it still had me laughing as hard as I did when I was 10 years old. In Ladybugs, Rodney Dangerfield plays a salesman who is asked to coach his company sponsored, girls soccer team, but he had no idea what he was in for. The other coaches are ruthless, the parents are insane, and worst of all his team is terrible, so what is a comedian to do? He gets his girlfriends, athletic, 14 year old son to dress up as a girl and join the team. The son is played by teen heartthrob Jonathan Brandis, who I became a huge fan of during the show Seaquest DSV. Brandis was absolutely hysterical as the teenage son, playing a teenage daughter. Some of his lines, along with his interactions with Dangerfield are pure comic genius. As for Dangerfield, while he was a legendary stand-up comedian, he was a terrible actor. The next logical step for a great stand-up comic is acting, sometimes it works, sometimes it doesn't, and while Dangerfield has some pretty funny lines, he is one of the worst acting comedians I have ever seen. The story here is a unique and interesting one, in a context that is most definitely not meant for younger kids. There are some funny lines and more laughs to be had at the ridiculousness of the situation, but besides that, this is not a great movie. I gave it an even rating, but when it comes to this film, I am biased by my admiration for the late Jonathan Brandis and my fondness for this film I have loved, since my childhood.
Todd Smith
Super Reviewer
½
Rodney is funny but stick with Back to School to see him at his best.
Not bad but not original at all.
Jason Spencer
Super Reviewer
Ladybugs Quotes
There are no approved quotes yet for this movie.