The Ladykillers
(2004)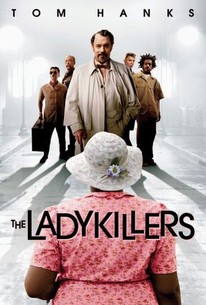 Movie Info
Goldthwait Higginson Dorr III is a charlatan professor who has assembled a gang of experts for the heist of the century. The thieves are experts in explosions, tunneling and muscle. The professor is their critical inside man. The base of operations is the root cellar of an unsuspecting, church-going, little old lady named Mrs. Munson. The ruse: the five need a place to practice their church music. The problem: it quickly becomes evident that Dorr's thieves lack the mental capacity to do the job. The bigger problem: they have seriously underestimated their upstairs host. When Mrs. Munson stumbles onto their plot and threatens to notify the authorities, the felonious five decide to 'do her in' before she ruins their heist. After all, how hard can it be to knock off an old lady? They'll soon find out.
News & Interviews for The Ladykillers
Critic Reviews for The Ladykillers
Audience Reviews for The Ladykillers
The worst Coen's film maybe saved (slightly) by a uncharacteristically unepic role from Tom Hanks.
Graham Jones
Super Reviewer
½
I was pleasantly surprised at how much this film was actually good. I found this one pretty underrated. Directed by the Coen Brothers, this is a fine remake with plenty of laughs. Tom Hanks is great here, and he makes the film very enjoyable. I really don't understand the hatred towards this film. Well directed by the Coen Brothers, this is one of their most underrated films. If someone should tackle a remake, it's these two directors. Their resume speaks for itself. I enjoyed the eccentric humor that the film had, and it almost felt as if it was a Coen Brothers original film and not a remake. This is a very funny film, one that shouldn't get vilified the way it has. This is a fine little film in its own right. This remake is helmed by great filmmakers who understand the value of a good gag. With films like Raising Arizona, Fargo and The Big Lebowski, you can see a consistent humor element in their work. Ladykillers is not a perfect film, but it has plenty of good things going for it to make a worthwhile film to watch. The Coen Brothers deliver a fun, whimsical comedy here, and I really believe that this one of those films that is unfairly criticized as being a bad film, which couldn't be further from the truth. I think the Coen Brothers did a great job here and made a fine film that deserves more praise than what it initially got. If you're a Coen Brothers fan, you may enjoy this film, and you might understand why it's an underrated film.
½
Coen brothers flaw. The Ladykillers (2004) is nothing like the original.
Lucas Martins
Super Reviewer
The Ladykillers Quotes
| | |
| --- | --- |
| Goldthwait Higginson Dorr: | And what, to flog a horse, that if not dead is at this point in mortal danger of expirin', does this little square represent? |
| | |
| --- | --- |
| Goldthwait Higginson Dorr: | And what, to flog a horse, that if not dead is at this point in mortal danger of expiring, does this little square represent? |
| | |
| --- | --- |
| Marva Munson: | There's a strnager in our midst come to destroy us. |
| Marva Munson: | There's a stranger in our midst come to destroy us. |
| | |
| --- | --- |
| Goldthwait Higginson Dorr: | Y'all know what smote is! I smite! You smite! He smites! We done smote! |
| Preacher: | Y'all know what smote is! I smite! You smite! He smites! We done smote! |