Lage Raho Munna Bhai
(2006)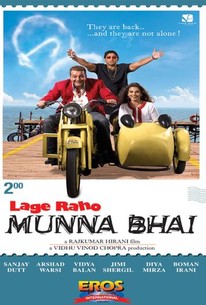 AUDIENCE SCORE
Critic Consensus: No consensus yet.
Lage Raho Munna Bhai Photos
Movie Info
Bombay thug Munnabhai and his loyal pal Circuit are back in this blockbuster sequel to the popular hit Munnabhai M.B.B.S. Smitten by the voice of popular radio jockey Jhanvi, Munna sits by the radio all day long as dreams of marriage and romance drift through his restless mind. When Jhanvi invites Munna to meet her family under the false pretences that the lovable goon is actually a history professor, the prospect of giving a history lecture to her unsuspecting parents proves even too devious for a seasoned deceiver who thrives on misleading others. Though his "dadagiri" business is flourishing, Munna must now enlist the aid of his trusted friend Circuit in coming up with a solution to get his love life back on track with his professional life. Just when Munna thinks he's got his pressing problem all worked out, the arrival of a figure from history finds this phony history professor facing a most unusual case of the past catching up with the present.
Critic Reviews for Lage Raho Munna Bhai
All Critics (2) | Fresh (1) | Rotten (1)
It's interesting to see the movie try and revive Gandhian thoughts and teachings, and attempt to apply it in today's world.
Squanders most of the goodwill generated by Part 1, banishing nearly all of its supporting characters to the Shadow Zone and starting all over again from scratch.
Audience Reviews for Lage Raho Munna Bhai
Like lots of people, I was hardly excited for this one. I saw it as a manipulative way of cashing in on the grand success of 'Munnabhai M.B.B.S.' And it apparently was. But still, it can't undo the fact that it's an incredibly entertaining movie. Plot-wise, there's hardly any connection between Munnabhai M.B.B.S. & this one. One need not necessarily watch Munnabhai M.B.B.S. before going for this as it's not a sequel in real sense. The story doesn't pick up from where the last one ended. Only the main characters (Munnabhai & Circuit) are repeated here. A few other actors (like Boman Irani, Jimmy Shergill, etc.) from Munnabhai M.B.B.S. are also present, but they're cast in different roles/characters here. The movie takes a whole new approach on how Mahatma Gandhi's thoughts can be successfully applied to solve real life problems (okay, some of the solutions portrayed here might not be genuinely rational) even today. If someone slaps you on one cheek, offer him the other side. It might not work outright, but it will gradually result in your opponent's change of heart. Bollocks, right? But how shall we know if we'd never give it a try? Hell, I don't think I would. (And that's a pity.) It won't work with the extremely violent ones, but would we even risk it with the less violent ones? Same here :P It's interesting to note what Einstein had to say in this context: "Generations to come will scarce believe that such a one as this ever in flesh and blood walked upon this earth." (In this quote, 'this' refers to Mahatma Gandhi.) So, it's a larger than life concept & there are many plot holes. But it's very, very entertaining & surely worth a watch. SPOILER AHEAD: I'd have given it 5/5 if I could get over: Why don't they simply take the offer? Isn't 1 bungalow, 1 flat, 1 car, etc. a deal good enough in exchange of one house? Isn't accepting this deal a non-violent/peaceful solution? After all, the party on the other end has 700 crores at stake. At least, take that into consideration & strike a deal. Maybe I missed the point. But no one has provided me a sufficient explanation to it as yet. While I was successfully able to ignore the other minor plot holes, I couldn't overlook this specific irrational part of the story.
familiar stranger
Super Reviewer
Lage Raho Munna Bhai Quotes
There are no approved quotes yet for this movie.