Laggies
(2014)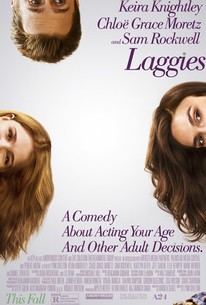 TOMATOMETER
AUDIENCE SCORE
Critic Consensus: Laggies may not do as much with its ideas as it could, but it's buoyed by a winsome performance from Kiera Knightley, as well as Lynn Shelton's empathetic direction.
Movie Info
Overeducated and underemployed, 28 year old Megan (Keira Knightley) is in the throes of a quarterlife crisis. Squarely into adulthood with no career prospects, no particular motivation to think about her future and no one to relate to, Megan is comfortable lagging a few steps behind - while her friends check off milestones and celebrate their new grown-up status. When her high-school sweetheart (Mark Webber) proposes, Megan panics and- given an unexpected opportunity to escape for a week - hides out in the home of her new friend, 16-year old Annika (Chloë Grace Moretz) and Annika's world-weary single dad Craig (Sam Rockwell). Lynn Shelton, whose unique directorial voice created such astutely observed comedies as YOUR SISTER'S SISTER and HUMPDAY, crafts a sweet, romantic coming-of-age comedy about three people who find their lives intertwined in the most unconventional way as they make through the imperfect realities of modern day life. Keira Knightley shines as Megan, a rare female slacker hero who shows us that while you never stop growing up, you can choose stop lagging, and start living on your terms. (c) A24
News & Interviews for Laggies
Critic Reviews for Laggies
Audience Reviews for Laggies
I liked this. Maybe it says something about my own lack of maturity. Lol. I could relate to Keira's aimless 20 something character, floating through life and not having a good grip of who she is or what she wants out of life. I certainly don't condone her behaviour with the two men in her life, I don't think there's ever an excuse to cheat, but I could understand why she did it. The relationship with Annika was also nicely done. I think the two were very nice on screen together.
Nicki Marie
Super Reviewer
½
A directionless twenty-something hides away from her life with a teenager and her divorced father. A quirky film, Lynn Shelton's Laggies has its moments of chuckle-inducing charm, but the story is over-burdened by its theme. For example, when Craig catches Megan in his daughter's room, there is limited conversation about her invasion into his family; rather, they spend most of the time talking about the pressures of adulthood, which is the theme, not what would actually happen if these were real people. Another example is Gretchen Mol's character. There is no impetus for Annika to visit her mother, but she does because theme (as opposed to "because plot"), and Bethany is another adult struggling with the pressures of adulthood. Surprise, surprise. I'm not saying that theme is not something that belongs in this film, but it should emerge organically. Keira Knightley's American accent is bad, but the rest of her performance is okay - just okay because I never really bought her as a younger, directionless adult. Compare her with Charlize Theron in Young Adult, and her deficiencies are blatantly obvious. Chloe Grace Moretz, on the other hand, continues to impress. I can't wait to see what she does next. Overall, Shelton's effort has some good points, but it's over-burdened to the point of heavy-handed.
Jim Hunter
Super Reviewer
Lighthearted and fun, Laggies is an eccentric comedy about outgrowing the capriciousness of youth. Confused about what to do with her life, a college graduate named Megan decides to hide out at the house a 16-year-old friend she just made in order to get herself together and figure things out. Starring Keira Knightley, Chloe Grace Moretz, and Sam Rockwell, the performances are really good, and they do an excellent job at delivering the satirical comedy. Additionally, the script is well-written; especially the dialog, which is quite sharp and quippy. However, the quarter-life crisis thing becomes a little trite and self-indulgent after a while. But despite its weaknesses, Laggies is entertaining and delivers a lot of laughs.
Dann Michalski
Super Reviewer
Laggies Quotes
There are no approved quotes yet for this movie.