The Lair of the White Worm
(1988)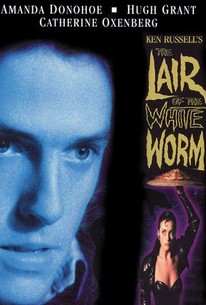 The Lair of the White Worm Photos
Movie Info
Taken from Bram Stoker's last novel, Ken Russell adds his artistic flair to this campy horror comedy. While staying at the ancestral home of sisters Mary (Sammi Davis) and Eve Trent (Catherine Oxenberg), a Scottish archaeology student uncovers a skull of unknown origin. Angus Flint (Peter Capaldi) reveals his findings to the neighboring nobleman Lord James (Hugh Grant). The two connect the ancient legends of a dragon to a strange cult that worships a giant, ravenous subterranean white worm. The property of the Trent sisters is later revealed to have been built on the sight where ancient pagan rituals took place. Vampire vixen and cult-member Lady Silvia Marsh (Amanda Donohoe) lures victims to the white worm to feed on.
Critic Reviews for The Lair of the White Worm
Audience Reviews for The Lair of the White Worm
½
A very good, odd British horror comedy!
Dood. Ohmygod, do you guys ever watch American Dad? I know exactly how Roger feels about Chockodiles. This is the best movie since sliced bread. Words cannot express how unfathomably amused I was by this movie. It's insane, but it knows how insane it is, and it punctuates its nuttiness with hot chicks and brilliant banter, just in case you weren't already on board. It's a fascinating twist on vampires, since these monsters aren't exactly undead. They're more like venomous immortal snake women who serve this ancient god, and can infect you with thier... hotness? Malevolence? It doesn't matter. Sylvia Marsh is one of my new favorite cinema villains, and she genuinely has a ton of fun exploiting the local archaelogical breakthroughs and generally bringing her evil to the simple townspeople. Snake woman, trippy imagery, valliant swordsmen and the angry angry Scottish dude from In The Loop. I dare you not to get a kick out of this movie. I dare you. My friend who let me this on DVD is totally not getting it back.
Emily Armstrong
Super Reviewer
I liked the Idea with Pagan Snake, its like Medusa. more later
The Lair of the White Worm Quotes
There are no approved quotes yet for this movie.