L'Alpagueur (Hunter Will Get You)
(1976)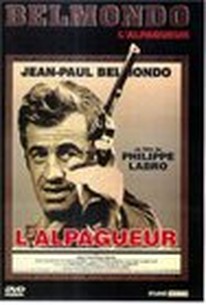 AUDIENCE SCORE
Critic Consensus: No consensus yet.
L'Alpagueur (Hunter Will Get You) Photos
Movie Info
In France, the slang-word for "bounty hunter" is "alpagueur." When the police are working on cases where they do not want their presence officially known, they arrange for private individuals who specialize in this work to perform certain services, such as setting up major arrests. In this film, L'Alpageur is Jean-Paul Belmondo, who does his work with a considerable sense of humor, great charm, and in as "clean" a way as possible. First, he busts a drug-trafficking ring operating out of Rotterdam by observing that a certain "pregnant" woman moves in an unusual fashion. Her "baby" turns out to be a large, specially shaped package of heroin. The drug kingpins stung by his operation seek to find the man who thwarted them, but because L'Alpageur is known only to a few in the police department, the drug barons' corrupt police friends cannot determine who he is. Later, he busts the leaders of a prostitution ring. While they were all gathered in one room, he fed nitrous oxide into that space, and they all fell unconscious following a few giddy, laugh-filled moments. This made it possible for him to arrest them without their ever seeing him. His most important case, however, is his search for "The Hawk," a bank-robber who uses local juvenile delinquents in each town to help him set up his thefts. After each robbery, he kills his helpers. One of them, however, has survived and has been put in jail. L'Alpageur is given a false identity and is put into jail alongside the youth. His job is to help the lad escape, and find the elusive, murderous bank robber. ~ Clarke Fountain, Rovi
Critic Reviews for L'Alpagueur (Hunter Will Get You)
There are no critic reviews yet for L'Alpagueur (Hunter Will Get You). Keep checking Rotten Tomatoes for updates!
Audience Reviews for L'Alpagueur (Hunter Will Get You)
This french crime thriller reeks of the 1970s. That does have a certain charm, especially if you caught this film during many reruns in the 80s, but also feels pretty dated. Once the slow-starting plot gets moving things get rather enthralling, though. Belmondo plays a laconic bounty hunter who sets out to catch the "Hawk", a sadistic thief and murderer. The film packs quite a lot of plot into its short running time: a prison escape, a motel shootout and the friendship to a young crook who survived the villain's latest coup. The film's biggest asset is the protagonist's main soundtrack theme, which is very memorable and awesome, promising crucial events each time it is used. Even though not without a grim sense of humor, this is a dark, pessimistic cop thriller.
L'Alpagueur (Hunter Will Get You) Quotes
There are no approved quotes yet for this movie.