Lamb
(1986)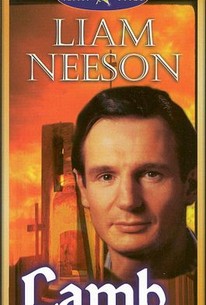 AUDIENCE SCORE
Critic Consensus: No consensus yet.
Movie Info
Michael Lamb (Liam Neeson) is a member of the Christian Brotherhood, working as a teacher in a private special-ed school in Ireland. Having recently endured the loss of his father, Lamb befriends a young, epileptic student. The wicked behavior of unscrupulous brother superior Ian Bannen compels Lamb to head to London, accompanied by the boy. The ironic climax finds the lad losing his life as an indirect result of Lamb's kindness. Based on a novel by Bernard McLaverty, Lamb is graced with a compelling musical score by rock star Van Morrison.
Audience Reviews for Lamb
½
I would make some kind of lame reference to Genesis' "The Lamb Lies Down on Broadway", but not even lions could take down a man as "ba-a-a-ad" as Liam Neeson, or, as I prefer to call him when referring to this film before Neeson finds and kills me for my cheesiness, "Liamb" Neeson, like those critics who are as vicious as lions took down Phil Collins. Phil, my man, I like you just fine, and you've got a cute daughter and all, but come on, not even your progressive rock stuff was especially good, and yet you still sold out to New Wave so much that even I was kind of disappointed. Speaking of strange-looking, white R&B musicians who people don't really keep up with nowadays, ladies and gentlemen, I present to you this, a film so Irish that its score is done by Van Morrison, and if that's not enough for you, it's about the troubles of a Roman Catholic priest played by Liam-I mean, Liamb Neeson. Man, the casting for this film could be better, because I for one have a hard time seeing Neeson as "sheepish", but hey, he's a good enough actor for me to "b-a-a-uy" it (Can anyone believe that I just made to "bah" puns, or are they in too much pain from that one, alone, to think about the one at the beginning of this paragraph?), even if this is one of his first roles. I've heard of "lions for lambs", but before there was Aslan the lion god, Neeson had to settle with being a mere priest, though this was his first lead role, so I doubt he had all that much "lambent". "Lambe" lamb puns aside (Yeah, more like "Silence of the Lamb Puns"), it is pretty impressive how Neeson was able to secure a leading role this relatively early in his career, though I can't say I'd be surprised if the reason why Neeson got this role was because he simply asked, seeing as how what Mr. Neeson says goes. Well, I reckon that means that Neeson didn't ask for this film to be all that rewarding, for although this efforts is a decent first for Neeson as a leading man, much like my lamb puns, not everything works (I say that like an of my lamb puns worked). I suppose an adequate amount of information regarding our characters and their story is delivered, but is mighty limited, because even though you more or less get used to what's going on, immediate development is lacking and gradual exposition feels kind of undercooked with this character piece, which, as a minimalist effort with a runtime that goes a little over 100 minutes, still has plenty of time flesh things out, or rather, limp things along with filler that eventually becomes so abundant that it takes over narrative focus and taints a sense of consequence. At the very least, the padding in this film results in repetition, but either way, you have plenty of time to think about how this film doesn't take as much time as it probably should on development, though that's not to say that there's not also times where you forget about the expository shortcomings, partially thanks to the compensations, and largely thanks to the bland spots' disengaging you so far from the film that you don't really notice much about it. Okay, maybe that's going a bit extreme, as the film could be limper, but when momentum slows down, - as it often does - it is typically accompanied by a limpness in directorial storytelling that makes things kind of bland, and even dulls things down at time, challenging your investment even more than the atmospheric moments that feel a bit too flavored up. Considering its subject matter, this film could have really gotten schmaltzy, and even when you see through the standard for cheesiness established by this story concept and look at the general standard, this film really isn't too sentimental, but the point is that there is, in fact, some sentimentality, which dilutes the genuine effectiveness within the dramatic depths that ultimately anchor this very human character piece. Needless to say, the limitations in dramatic genuineness go into reflecting the limitations in potential, because while this film does tell a fairly worthy tale, there's still only so much to this minimalist and familiar rehash of an age-old tale of a man who finds faith on his misadventures with a troubled youth he rehabilitates with companionship. The film is predictable to no end, falling into conventions so deeply that it ends up becoming just another piece in a series of films of this type, and therefore collapses into forgettability that, thanks to other issues, stands behind underwhelmingness. There's nothing too special about this run-of-the-mill opus, and yet, while it's hard to walk away with the final product firmly planted in your brain, as things unravel, it's hard not to be a little invested, if not entertained, primarily by the musical aspects. Being all too often blandly quiet, this film doesn't play up veteran Northern Irish musician Van Morrison's score a whole lot, and when it does, fans will be disappointed to know that there's not simply not too much that's especially distinct about Morrison's compositions (What, were you expecting a scene in which Liam Neeson and Hugh O'Conor have a heartfelt interaction while some white guy hollers out soul and R&B?), but not too much that's especially original about Morrison's efforts, so don't go in too excited about this score by a high-profile name in the music business, yet do rest easy knowing that Morrison still puts together a dynamic and lively score that colorfully and stylishly adds to the color of this film when it is, in fact, played up. Musically, the film doesn't exactly excel, but Morrison's work is commendable and entertaining as a driving force for certain areas of the final product's engagement value, yet one that could never fully replace substance as a reinforcement of engagement value, thus, in order for this film to keep engagement value alive, it needs to keep substance reasonably potent. Well, like I said, this potency is lacking, as this film's story concept is mighty minimalist, as you are frequently reminded by genericism, uneven pacing and sentimentality that reflects the ambition to make this drama more sharp than it can be, yet there's a certain endearing charm to the subject matter, as well as areas that open doors to possibilities for compellingness, something that is frequently betrayed, but hardly ever dissipates. Bernard MacLaverty's script has a certain wit and momentum to it that keep blandness from getting to be too especially intense, at least on paper, while what keeps things going in the final product is the commendable spots in Colin Gregg's directorial storytelling, whose palpable heart compliments charm, while more the more genuine and less manipulative dramatic moments rather genuinely piercing (The film surprisingly ends on an ambiguous and seriously dark note that is just heartbreaking... or at least depressing). Heartfelt, charming and sometimes moving, Gregg's inspired efforts cannot fully compensate for his and the subject matter's shortcomings, yet they do a lot in getting you by, carrying the final product with a certain degree of compellingness that goes challenged by the compellingness within the performances. The film centers around two layered characters, one of whom is portrayed by a star being given his first major leading role, while the other one is portrayed by a star who was just showing up to the game as a kid, and when you hear about that, you see that plenty can go wrong, so you may breathe a sigh of relief knowing that Liam Neeson and Hugh O'Conor showed potential even at this time, with a young O'Conor being genuinely convincing as a troubled, if rather obnoxious lad who slowly, but surely, gains some maturity through a loving companionship, while Neeson proves to be particularly charismatic and effective as a flawed, but well-intentioned man who ends up being changed more than the boy he cares for during his adventure to a new life. The best thing that can be said about this film is its leads, who are stronger than expected and end up carrying this character piece, which, even with its memorable performances, isn't as memorable as it perhaps could have been, yet when it's all said and done, there's enough endearing heart to this reasonably touching tale to make the final product a decent one, regardless of its flaws. In conclusion, underdevelopment, plenty of repetitiously dragged out filler, bland spells and some sentimentality slow down momentum enough for you to meditate upon the conventions and natural shortcomings within this story that make the final product underwhelming, though not to where the lively score work by Van Morrison, endearing subject matter, heartfelt direction and strong lead performances by Hugh O'Conor and Liam Neeson aren't enough to make Colin Gregg's "Lamb" a charming and sometimes touching buddy dramedy, even if it's not too terribly rewarding or memorable. 2.5/5 - Fair
Cameron Johnson
Super Reviewer
Lamb Quotes
There are no approved quotes yet for this movie.