Lamerica
(1995)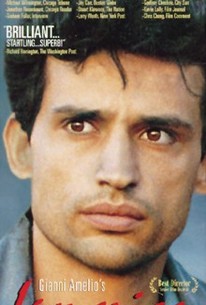 Movie Info
An opportunistic Italian swindler heads to Albania and finds himself involved with the life of an impoverished local in this somber political drama. Gino (Enrico Lo Verso) and his partner in crime Fiore (Michele Placido) come to Albania with a money-making scheme designed to capitalize on the surrounding political chaos. For the con to work, however, they need an easily exploitable native Albanian, and they recruit Spiro (Carmelo Di Mazzarelli). Easily confused and utterly impoverished, this elderly former political prisoner seems the perfect choice, until he unexpectedly disappears. Gino is assigned to find him, setting out on a journey that leads him to discover Spiro's tragic personal history and become intimately acquainted with the full extent of Albanian poverty.
Critic Reviews for Lamerica
Audience Reviews for Lamerica
This film is incredible, to say the least. From start to finish, the film has an energy that continually draws the audience into the characters and forces them to see their point of view. Phenomenal visuals.
Jason 123 D
Super Reviewer
½
toccante viaggio per le strade del tempo che ha distrutto la fugace memoria del popolo. Ma, la lontana sperenza non mostra nessun segno de morte.
Pierluigi Puccini
Super Reviewer
½
There's nothing wrong with it and it's a nice little story, but there's nothing memorable about it. Maybe I just couldn't connect with the subject matter.
Brandon Klaus
Super Reviewer
Lamerica Quotes
There are no approved quotes yet for this movie.