L'amour braque
(1985)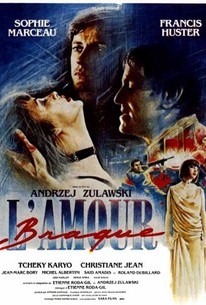 AUDIENCE SCORE
Critic Consensus: No consensus yet.
Movie Info
Inspired by Fyodor Dostoyevsky's The Idiot and intended as "a homage to the great writer," this film is set in modern France rather than 19th century Russia. This is a story of Léon (Francis Huster), who has been recently released from a mental asylum and claims to be a descendant of a Hungarian prince. On his way from Hungary to France, he meets Mickey (Tchéky Karyo), a hood who has committed a successful bank robbery and plans to take brutal revenge on the brothers Venin for what they did to his girlfriend Mary (Sophie Marceau). Léon can hardly understand what Mickey is up to but he follows him everywhere and soon falls in love with Mary. This odd love triangle resolves in a tragic ending. The frantic pace of the film's action can be compared to that of a runaway, hell-bound train. The colors and sounds go out of control, and violence abounds -- all of which is intended to convey to a viewer the craziness of the time.
Critic Reviews for L'amour braque
There are no critic reviews yet for L'amour braque. Keep checking Rotten Tomatoes for updates!
Audience Reviews for L'amour braque
MONEY, SEX, WHORES, THE THEATER, LOVE, DEATH, HA HA HA HA HA! DOWN WITH THE ESTABLISHMENT, BOOM! POW! KABLAM! SEAGULLS SEAGULLS SEAGULLS! Yep, that's what watching this obnoxious film feels like: at top volume, in your face, all the time. The plot has something to do with rival Parisian gangsters and a Hungarian scooped into the mayhem who falls in love with a high-class hooker/gun moll, but it's just an excuse for a collection of disjointed rants against society and showcasing hysterical behavior. I'll give it this, there is no shortage of energy expended, with the loony anarchist gang of thugs resembling Kubrick's droogs from "A Clockwork Orange" paired with the gangland gunfire of "Scarface". The actors don't give performances, they go to histrionic extremes, constantly in motion, darting between rooms, convulsing their bodies, and either screaming their lines or laughing maniacally. Some believe director Zulawski is a gifted filmmaker, those of us who aren't moved by his bombastic delivery will find this exercise in excess torturous. According to the dedication, meant as an homage to Dostoyevsky's "The Idiot" but I think it's closer to Macbeth: "It is a tale told by an idiot, full of sound and fury, signifying nothing."
Doctor Strangeblog
Super Reviewer
L'amour braque Quotes
There are no approved quotes yet for this movie.