L'Annulaire (The Ring Finger)
(2005)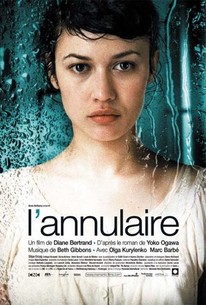 AUDIENCE SCORE
Critic Consensus: No consensus yet.
Movie Info
Yoko Ogawa's cult novel serves as the inspiration for director Diane Bertrand's haunting erotic drama starring Olga Kurylenko. Iris (Kurylenko) is looking for employment when she goes to work for an eccentric scientist who specializes in preserving people's personal mementos. Later, as Iris lovingly sets about preserving such keepsakes as animal bones and inanimate objects, an attraction begins to develop between her and the scientist and the pair enter into an ominous but occasionally playful love affair. ~ Jason Buchanan, Rovi
Critic Reviews for L'Annulaire (The Ring Finger)
All Critics (2) | Fresh (2) | Rotten (0)
Has both an eccentric sensibility and, ultimately, a spiritual quality that should have audiences debating the final scene for hours.
Bertrand doesn't offer any easy answers, but she creates an incredibly effective sense of both dread and excitement.
Audience Reviews for L'Annulaire (The Ring Finger)
½
Well, this film was suggested to me by Jhon E. It took me some time to find it and more time to get around to watching it. but, I finally have so here it goes. I rather liked this film. it was a different film. not a film that you see every day. I really liked the acting all around. The main girl did a fantastic job. The screenplay was also great. I didn't mind the subtitles either. I actually watch all of my movies with subtitles so they don't bother me. I also liked the tone and pacing of this film. The film was very...mellow. that might not be the right word but you get the idea. I also feel that the ending had some sort of symbolism but I cannot figure out what. Overall, I liked it. it was an excellent film. TRIVIA TIME:Olga Kurylenko won the Certificate Of Excellence at the 2006 Brooklyn International Film Festival for her performance in this film.
Lord Naseby
Super Reviewer
½
In "The Ring Finger," Iris(Olga Kurylenko) loses the tip of her ring finger in an industrial accident in a lemonade factory.(Forgive me for the grossness, but I don't think I'll ever be able to drink pink lemonade again.) Looking for a different line of work, she travels to a new city but at first can find no work at the port and the only room she can find she has to share with Costa(Stipe Erceg), a sailor who works the night shift. She does soon find work in a laboratory as a receptionist for a scientist(Marc Barbe) who preserves and archives items of sentimental value and presents her with the gift of a pair of red shoes. "The Ring Finger" is a beguiling, sensual and nuanced movie. It uses an offbeat rhythm to explore a place that might exist out of time, in order to ensure the items will not decay. Iris is not sure how long she has been working at the laboratory, which contains no modern equipment and is lacking any air conditioning. She says two or three weeks but it could be months or even decades. As with any dead end job, where there is not a lot to do, time moves in an odd fashion. A day can feel like a week but before you know it, years have gone by. This might explain why Iris and Costa are not quite in sync.
The preservation of personal artifacts in the film causes one to wonder about the nature of memories, loss, and the desire or need to move on, extending even to Iris' own life. This helps to draw the viewer into what is a very quiet and meditative film. I see actress Olga Kurylenko played Iris was quite good, especially given that it was her first film and that she had to communicate so much non-verbally. A few of the scenes between her and the preservationist were charged with a lot of sensual energy, even in something as simple as him putting a pair of shoes on her feet.
Dean McKenna
Super Reviewer
L'Annulaire (The Ring Finger) Quotes
There are no approved quotes yet for this movie.