Lara Croft Tomb Raider - The Cradle of Life
(2003)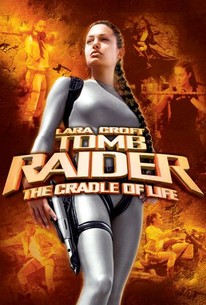 Lara Croft Tomb Raider - The Cradle of Life Photos
Movie Info
This sequel to the 2001 hit video-game adaptation Lara Croft: Tomb Raider finds Jan de Bont stepping in for director Simon West, helming his first feature since 1999's The Haunting. From a script by first-time scribe Dean Georgaris, Lara Croft: Tomb Raider: The Cradle of Life finds Angelina Jolie once again portraying the titular curvaceous adventurer. But where the first film saw Croft in a race against the Illuminati to acquire an elusive relic that offers control over life and death, this entry in the series follows the heroine as she ventures to an underwater temple in search of the mythological Pandora's Box. Unfortunately, once she secures the legendary artifact, it is promptly stolen by the villainous leader of a Chinese crime syndicate. It is then up to Lara to get the box back before an evil mastermind gets hold of it and uses it to construct a weapon of catastrophic capabilities. Gerard Butler, Djimon Hounsou, and Noah Taylor head up the supporting cast. ~ Matthew Tobey, Rovi
News & Interviews for Lara Croft Tomb Raider - The Cradle of Life
Critic Reviews for Lara Croft Tomb Raider - The Cradle of Life
Audience Reviews for Lara Croft Tomb Raider - The Cradle of Life
Fun and mindless action adventure.
Christian C
Super Reviewer
Not as good as Lara Croft: Tomb Raider due to a lack of thrills and action sequences. At least the first one was capable of this and sticking even marginally to the video game's concept of Lara raiding tombs a bit more often. So I feel gamers will feel dissapointed. But I as a film-goer enjoyed it because of witty, light hearted comedy and once again Angelina Jolie and her co-star's terrific performances.
Directors Cat
Super Reviewer
½
Semi average sequel to Lara Croft Tomb Raider, Tomb Raider The Cradle Of Life is a slight step down the first, but manages to be entertaining despite the the lack of a really exciting story. I personally felt that the first was better, and this sequel feels like it was rushed to appeal to fans of the first one. Angelina Jolie returns as Lara Croft, and like I've said, the film is semi average and constantly feels like theres something out of place. A decent enough sequel, but hardly anything I would call excellent. Ciaran Hinds plays Jonathan Reiss a weapons dealer who seeks the cradle of life. Lara Croft is hired by the British government to recover the Cradle Of Life before Reiss does. Directed by Jan De Bont who is fairly hit and miss in his films, directs this film, and it shows. The results is the feeling that the film lacks something to truly make it exciting, and thrilling, something the first one did, but this one seems to be forced. The action scenes are entertaining, but get old after a while. Lara Croft: Tomb Raider The Cradle Of Life is an imperfect, entertaining sequel. And despite everything, it does to be entertaining, but really is truly exciting. If you want the better Tomb Raider film, give the first a view. With this entry, the series either needs a third sequel, or a refreshing, and most likely a much needed reboot. Decent, but forgettable.
Lara Croft Tomb Raider - The Cradle of Life Quotes
| | |
| --- | --- |
| Lara Croft: | A bit rusty, are we? |
| Terry Sheridan: | Oh, I think it's coming back. |
| Lara Croft: | I expected more from a Scot. |
| Terry Sheridan: | I don't expect anything from an Englishwoman. |