Larry Flynt: The Right to Be Left Alone
(2007)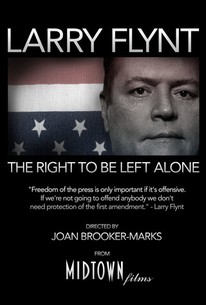 AUDIENCE SCORE
Critic Consensus: No consensus yet.
Larry Flynt: The Right to Be Left Alone Photos
Movie Info
Both hero and villain, tireless civil rights advocate and purveyor of pornography, the always controversial Larry Flynt is the subject of Joan Brooker-Marks' documentary. Delving beyond Flynt's political career, the film offers an intimate glimpse into the publisher's personal life, including the assassination attempt that left him paralyzed, and his first wife's battle with AIDS. Ultimately, Brooker-Marks delivers the full, unvarnished story of one of America's most unlikely defenders of civil liberties.
Critic Reviews for Larry Flynt: The Right to Be Left Alone
There are no critic reviews yet for Larry Flynt: The Right to Be Left Alone. Keep checking Rotten Tomatoes for updates!
Audience Reviews for Larry Flynt: The Right to Be Left Alone
½
I like Larry Flynt. Sue me. Part of my appreciation for him also fuels my liking of "Larry Flynt: The Right to Be Left Alone," a documentary which details his life and controversial career in publishing Hustler Magazine, which along with printing graphic photos of naked women, also provocatively slaughters the sacred cows of modern society, mischievously reminding us that religious and political leaders to have the same bodily functions as the rest of us, with a particular emphasis on hypocrites. A lot of this I already knew from watching "The People vs. Larry Flynt" but it was still interesting to see the archival footage, especially one scene where he challenges a prosecutor by asking him what is more obscene, war or pornography?(Charles Keating was one of the most fervent attackers.) Flynt still got about 25 years in his initial verdict. He was also shot and paralyzed from the waist down, presumably for publishing a photoshoot of a black man and a white woman. So, you can see despite his reputation, why he makes a perfect champion of free speech, as he has suffered for your sins. But I don't know how influential he has been, as the movie tries to connect his personal brand of satire to The Daily Show. Some impartial commentary would have helped. On a personal note, Hustler Magazine has never done anything for me, as it is more gynecological in its approach towards the female form than its competitors, so I just decide not to read it.(If memory serves me correctly, Flynt briefly published Pure Magazine which was an adult magazine by women and about women which I found much more stimulating.) That wasn't so hard, was it? (Originally reviewed in the blog section 5/19/10.)
Larry Flynt: The Right to Be Left Alone Quotes
There are no approved quotes yet for this movie.