Laserblast
(1977)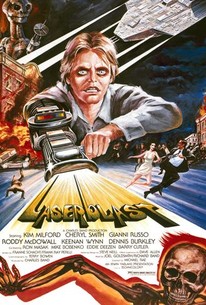 AUDIENCE SCORE
Critic Consensus: No consensus yet.
Movie Info
Billy (Kim Milford) has the same problems that many teens have to endure. His mother is inattentive, local cops target him for speeding tickets, his girlfriend's grandfather hates him, and teenaged bullies make fun of his van. Billy finds the keys to his emancipation in the desert, when he stumbles across a laser gun left behind by a pair of aliens. As he exacts revenge upon his unsuspecting tormentors, he becomes overwhelmed by the power of the gun and turns into a crazed, green-faced monster.
Critic Reviews for Laserblast
Audience Reviews for Laserblast
The new MST3K Netflix original has been released and I decided to expose myself to some of the old episodes available for streaming on Hulu and Netflix (there is a different random selection on each platform). Whether it is Joel or Mike watching these awful movies with the bots I do not envy the torture they are put through. Their snarky comments add some entertainment value, but my ratings are based on the movie's quality itself and not the extra material broadcast from the satellite of love. Absolutely awful sci-fi cheapy. The nerdy Billy is a relatively good-looking kid who is picked on by popular kids including, impossibly, ultra-nerd actor Eddie Deezen. You wonder why this kid is such an angsty rebel without a cause. An alien laser arm blaster and an amulet transform him, bringing out his most monstrous qualities. With the low budget you get the style of effects you would expect with some silly aliens that look a bit like turtles without shells. Keenan Wynn and Roddy McDowall make brief appearances trying to give credence to this late 70s goofy trash.
Byron Brubaker
Super Reviewer
½
An extremely low budget sci-fi film, with a couple of well known actors here and there who don't have any good lines, for example Roddy McDowall who appears in about two scenes, which is very disappointing. The movie is slow and meandering for the most part, and the story is too simple. Plus, the main character is stupid and annoying. I wouldn't recommend seeing this movie, it's just horrible.
Horrible sci-fi released in the wake of Star Wars is only for those who enjoy camp.
Anthony Valletta
Super Reviewer
Laserblast Quotes
There are no approved quotes yet for this movie.