Lassie
(2006)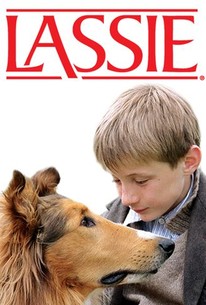 Movie Info
Set in 1938, a loyal collie travels more than 1,000 miles from northern Scotland to Yorkshire to return to her young friend. The dog, having been sold to a wealthy Duke because the boy's father was out of work, runs away and braves starvation and treacherous conditions to follow the pull of her heart toward the family who loves her.
News & Interviews for Lassie
Critic Reviews for Lassie
Audience Reviews for Lassie
It's well constructed and all but very much lacking the emotional depth I was expecting and hoping for. This was an unnecessary remake to begin with so it doesn't really have any real reason to exist. It also doesn't add anything new to the mix that the original already did and isn't as engaging or ambitous. There are a lot of good moments in the film and it's certainly not a bad one but it's not that amazing either. But hey dog lovers are going to love it and fans of the original will. But only because it's the same movie.
Directors Cat
Super Reviewer
½
It was a splendid two hours of my life! I got choked up at the sad part and choked up at the joyful part. It was such a well-crafted masterpiece. Probably the best Lassie film I've seen.
Dannielle Albert
Super Reviewer
½
[font=Century Gothic]"Lassie" takes place in 1939 in Yorkshire, England where following his noticing the collie Lassie during a very wild fox hunt, a duke(Peter O'Toole) offers to buy the dog from a miner, Sam Carraclough(John Lynch), and his wife, Sarah(Samantha Morton), but the dog is not for sale because of her strong attachment to their son, Joe(Jonathan Mason). But that changes after the mine closes and the family badly needs the money. Lassie has other ideas, making three escape attempts from the duke before being returned each time. Now, she is set to accompany the duke and his granddaughter, Cilla(Hester Odgers), several hundred miles to Scotland...[/font] [font=Century Gothic][/font] [font=Century Gothic][/font] [font=Century Gothic]"Lassie" is an old fashioned and entertaining movie with a very good cast, the juvenile actors being especially impressive. Cameos from two of Scotland's national treasures and shots of the beautiful countryside do not hurt, either.[/font] [font=Century Gothic][/font] [font=Century Gothic]At the beginning of the film, there is a sense of class consciousness.(You cannot buy the love of a dog or anyone else for that matter which is a maxim the duke ignores.) Then, it gives way to the necessity of kindness and generosity in times of war.[/font] [font=Century Gothic]And what is it with Peter Dinklage and dogs lately?[/font]
Lassie Quotes
There are no approved quotes yet for this movie.