Lassie Come Home
(1943)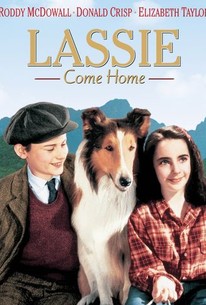 Movie Info
Female dogs tend to shed while in heat; this is why all the collies who've played doggy heroine Lassie in the movies have actually been well-disguised males. A magnificent animal named Pal was the screen's first Lassie in 1943's Lassie Come Home. Set in Yorkshire during the first World War, the film gets under way when the poverty-stricken parents (Donald Crisp, Elsa Lanchester) of young Joe Carraclough (Roddy McDowall) are forced to sell his beloved Lassie. While her new master, the duke of Rudling (Nigel Bruce), is pleasant enough, Lassie prefers the company of Joe and repeatedly escapes. Even when cared for by the duke's affectionate granddaughter, Priscilla (Elizabeth Taylor), Lassie insists upon heading back to her original home. This time, however, the trip is much longer, and Lassie must depend upon the kindness of strangers, notably farmers Dally (Dame May Whitty) and Dan'l Fadden (Ben Webster) and handyman Rowlie (Edmund Gwenn). Based on the novel by Eric Knight (originally serialized in The Saturday Evening Post), Lassie Come Home was released quite some time after Knight's death. Like all the Lassie sequels turned out by MGM between 1943 and 1951, Lassie Come Home was lensed in Technicolor.
News & Interviews for Lassie Come Home
Critic Reviews for Lassie Come Home
Audience Reviews for Lassie Come Home
½
Lassie Come Home? No, Lassie please leave! That's the real problem in this movie, Lassie wont stay away. The family is too poor to keep the dog, so they sell it, but it keeps coming back home. This really got on my nerves, not only that , but the scenes with Lassie fighting bears in the woods so he could get back home were so crazy and ridiculous that I hated this movie. I did like Roddy McDowall in the movie, though, he was good, so I gave the movie more stars than it deserved.
If you don't like this movie you better see the wizard about a heart.
Anthony Valletta
Super Reviewer