Last Action Hero
(1993)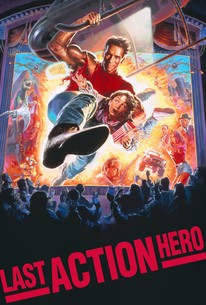 TOMATOMETER
AUDIENCE SCORE
Critic Consensus: Last Action Hero has most of the right ingredients for a big-budget action spoof, but its scattershot tone and uneven structure only add up to a confused, chaotic mess.
Movie Info
Arnold Schwarzenegger appears as a pumped-up Shakespearian hero while an announcer bellows, "Something is rotten in Denmark -- and Hamlet is taking out the trash!" This gag sets the stage for the post-modernist action epic The Last Action Hero. The film concerns Danny Madigan (Austin O'Brien), a lonely eleven-year-old boy who escapes from his bleak New York City reality by glorying in the action adventure movies of his favorite film character, Jack Slater (Arnold Schwarzenegger). Danny's friend is an elderly movie projectionist, Nick (Robert Prosky), who lets Danny into the shabby Times Square movie theater where he works so Danny can see Slater's new movie. He hands Danny a magic ticket given to him years ago by Houdini, and when Nick rips the ticket and gives Danny the stub, Danny finds himself catapulted from the theater into the back seat of Slater's speeding sports car in "Jack Slater IV." Danny becomes Slater's helper as Jack battles a trio of nefarious bad guys --Benedict (Charles Dance), Vivaldi (Anthony Quinn) and The Ripper (Tom Noonan). But things get out of hand when Benedict steals Danny's magic ticket stub and transports himself into Danny's reality. Benedict and The Ripper proceed to wreak havoc along Broadway, forcing Slater to cross into reality to get the villains and, in the process, learn about blood and pain.
Critic Reviews for Last Action Hero
Audience Reviews for Last Action Hero
½
I thought that this film could've been handled a little better than it could've with Schwarzenneggers standards, but its very entertaining. The main character does a good job as being a kid with a disfunctional life, a mom who's never hardly around, no dad and the closest father figure being a theater custodian played by Robert Prosky, and has been skipping school, and the idea of being sucked into a film, I thought was a very interesting concept, I know the concept has been done before, like with Bugs Bunny going into Elmer Fudd's dreams, or Timmy Turner getting into different books interacting with the characters (I Just realized this is in cartoons a lot,) but a kid getting sucked into an action movie is pretty interesting. And as a Schwarzennegger action comedy, it was done very well, also I like the film how it makes fun of all the different action movie cliches at the time, the puns, the explosions, the car chases, the slow-mo, the celebrity cameos, its just crazy, and the fact that a magical ticket can give you the power to travel into different films and out into the real world, its pretty cool, and when the villain gets a hold of the ticket, it becomes very interesting. Overall out of all the 90s action Schwarzennegger movies, its not the best, but as a comedy and an action movie its very well constructed and put together.
Michael Edwards
Super Reviewer
A somewhat cheesy kids movie, but it's very funny. I really liked Schwarzenegger in this movie, he's very cool. I enjoyed this movie, it's good.
I really don't understand why this movie gets so much flack, it's really a great idea and fun critique of Hollywood movies. Maybe it was too ahead of its time and maybe it still is, but I enjoyed it a lot. Arnold Schwarzenegger was extremely brave and humble to joke about himself and the movies he tends to be in, just a testament to someone who appreciates all they have. All the cameos and film references are some great touches and I love the cheesy over the top sequences and dialogue. I think the overall message is good; while Hollywood isn't an accurate representation of the world, it's still an important part of our culture and a way for us to see life as we wish it was.
Conner Rainwater
Super Reviewer
Last Action Hero Quotes
| | |
| --- | --- |
| Sergeant Jack Slater: | To be or not to be.....Not to be |
| | |
| --- | --- |
| Sergeant Jack Slater: | Don't give up your day job. |
| | |
| --- | --- |
| Sergeant Jack Slater: | Could I speak to the drug dealer of the house, please? |