The Last Airbender
(2010)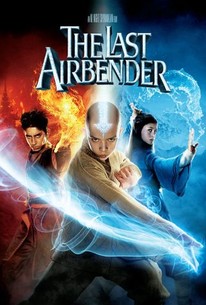 TOMATOMETER
AUDIENCE SCORE
Critic Consensus: The Last Airbender squanders its popular source material with incomprehensible plotting, horrible acting, and detached joyless direction.
The Last Airbender Videos
The Last Airbender Photos
Movie Info
Suspense auteur M. Night Shyamalan takes a break from crafting original screenplays to tell this tale of a 12-year-old boy (Noah Ringer) who provides the last hope for restoring harmony to a land consumed by chaos. In a world balanced on the four nations of Water, Earth, Fire, and Air, people known as the Waterbenders, Earthbenders, Firebenders, and Airbenders have mastered their native elements. Though the masters can each manipulate their native elements, the only one with the power to manipulate all four elements is a young boy known as the Avatar. When the Avatar subsequently appears to die while still mastering his powers, the Fire nation launches a global war with the ultimate goal of global domination. One hundred years later, two teens discover that the Avatar and his flying bison have in fact been locked in suspended animation. Upon being freed from his prison, the Avatar embarks on an arduous quest to restore harmony among the four war-ravaged nations. ~ Jason Buchanan, Rovi
News & Interviews for The Last Airbender
Critic Reviews for The Last Airbender
Audience Reviews for The Last Airbender
½
It is no surprise that after two atrocities Shyamalan couldn't make something superior, and so, by trying to comprise an entire season of the Nickelodeon animated series into one single movie, he creates an incomprehensible narrative with pedestrian dialogue and awful acting.
Carlos Magalhães
Super Reviewer
Decent visuals do little to save this heavily butchered live-action rendition of the first season of Nickelodeon's "Avatar: The Last Airbender". Failing to capture the delightful humor and lovely character interactions of the show, M. Night Shyamalan's first tackle at a fantasy epic is hilariously amateurish at best (If you thought he was bad trying to be Rod Serling, then watch him attempt to be George Lucas). Not only is the plot incomprehensible to anybody who hasn't watched the show, but this piece of cinematic trash is filled to the brim with wooden acting (Dev Patel, Shaun Toub, and Aasif Mandvi are the only actors that emerge with any credibility), awkwardly stilted exposition-filled dialogue, thin characterization, and ineptly choreographed action sequences. The plot will have newcomers confused and the strange alterations from it's wonderful source material will anger established fans. My advice: stick to the TV show and forget about this heap of uninspired tripe.
Christopher Heim
Super Reviewer
½
Even as someone who is not familiar with the anime of the same name, you can tell that this has probably little to do with it. The set-up, world-building and idea behind this mythology is great and interesting. There are also a couple of genuinely fun action scenes, especially when the bender work with their elements. The main problem are the characters. Why do the main characters from the ice look Caucasian but everyone around them Inuit? Those two aren't much of actors anyway. Then there is this somewhat flat but often bratty main character. All that makes it hard to care for everything that's going on. The film is still entertaining and offers some nice special effects, gorgeous landscapes and cities. So the result is not as catastrophic as fans of the original may want to make you believe. It's not that great a movie on its own either, though. And the sequel the ending dares to hint at very strongly will probably never happen.
The Last Airbender Quotes
| | |
| --- | --- |
| Aang: | There is earth right beneath your feet! The ground is an extension of who you are! |
| | |
| --- | --- |
| Aang: | We were forced under the water of the ocean. |
| | |
| --- | --- |
| Uncle Iroh: | Be careful what you wish for, Admiral. History is not always kind to its subjects. |
| | |
| --- | --- |
| Azula: | TRUST IS FOR FOOLS! fear is the only reliable way. |
| Azula: | Trust is for fools! Fear is the only reliable way. |