The Last Boy Scout
(1991)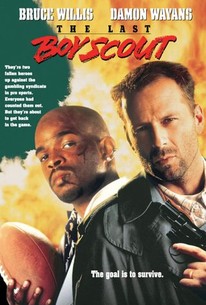 The Last Boy Scout Photos
Movie Info
Producer Joel Silver, director Tony Scott, and screenwriters Shane Black and Greg Hicks team up for this gridiron-set action thriller. Bruce Willis stars as Joe Hallenbeck, who was once a top-of-the-line Secret Service agent but has since become an alcoholic, flea-bag detective. While performing the chores of a two-bit shamus, he discovers his wife Sarah (Chelsea Field) is having an affair with his best friend. Joe is hired to protect Cory (Halle Berry), a stripper who has been getting death threats; Joe begins to sober up when Cory is blown to smithereens. Cory's boyfriend, Jimmy Dix (Damon Wayans), was at one time a NFL football quarterback, but was thrown out of the game for gambling and addiction to Demerol. Smelling something fishy, Joe and Jimmy begin to investigate further and discover layers of corruption in professional football circles, leading up to Sheldon Marcone (Noble Willingham), a corrupt team owner who wants to pay off legislators to legalize gambling on pro football games. ~ Paul Brenner, Rovi
Critic Reviews for The Last Boy Scout
Audience Reviews for The Last Boy Scout
½
Early 90s buddy action comedy that really did not age well. While Scott's style is already similar to his later masterpiece True Lies, the story here is simply not all that interesting with its setting in the football betting milieu and lackluster minor characters. There are some good one liners, but even Willis is far too close to his McClane routine to turn this into something special. Even the action isn't much to write home about. Forgettable.
Yeah, yeah, guilty as charged. Getting to the movie, I wasn't so involved with its main story because most of the scenes individually were entertaining enough to keep me hooked with the act going on. Bruce Willis has performed similar roles before too, but he's no less incredible here. I don't know the quarterback actor, but he got along well. Willis' dialogue delivery (and the calm attitude in not-so-calm circumstances) is exceptionally brilliant. Besides Willis, its dialogues/one-liners were highly remarkable. Most of the remaining actors contribute their fair share. There were a few hiccups so far as I'm concerned. The quarterback character who (pushes, and hence) joins Willis in the investigation of his girlfriend's murder hardly showed any grief for the loss. In fact, it seemed as if he were on a joyride. Joe's sad personal life bit (his family hardly having any respect for him & whatnot) has been performed to death, and should have rather been left out. And including the kid to join the duo in action in the final sequences didn't add much to the entertainment either. All being said, I've enjoyed a movie to this extent after quite a while. So much that I'm indifferent to include this quite an ordinary flick in my favorites list (for now, if not forever). I highly recommend it. All the same, be prepared; that's bound to help just in case....... And then some.
familiar stranger
Super Reviewer
"This is the '90s. You can't just walk up and slap a guy, you have to say something cool first." A down and out cynical detective teams up with a down and out ex-quarterback to try and solve a murder case involving a pro football team and a politician.
REVIEW
You look at this movie and what do you see? A patterned action movie. A patterned Bruce Willis vehicle. The simple fact is they just don't make 'em like this anymore. It gives us what we want, when we want it and that's why 'The Last Boy Scout' succeeds. In instant gratification, a comfortable level of predictability and by not pulling any surprise punches. No stranger to the cracking down-and-out tough guy roles, Willis is in form and Damon Wayans makes for a surprisingly good supporting turn. 'The Last Boy Scout' shows he can carry a serious role when his thing has mainly been comedy. Written by Shane Black and with the layers striped away, it's a movie we've seen and heard before plenty 'o times. The good guys versus bad guys is pretty black and white. It's got a crackling script apt with one liners and situations perfect for action showdowns or character moments, but it also seems to have a multiple personality disorder. Dealing with the professional sport of football, the initial tone is quite serious. It all gives away to territory traveled before soon enough, but I wonder if the serious start was just to establish the dark path or was it something more. Something darker never to be? There's glimpses that the story is trying to be more than just an action trip however that sediment is far and away gone by the time we reach the wacky end as only seen in action movies, but it begs the question. At the end of the day, the Last Boy Scout is everything you remember it to be. Loud, violent, politically incorrect, crude, funny and definitely quotable. The kind of light fare rift with lots of junk blowing up, cursing and little in the way of asking the viewer to think. It might pale in comparison to Willis's diverse catalog and again, the start is much stronger than the end, but it's still a hoot if you know what you're looking for!
Lorenzo von Matterhorn
Super Reviewer
The Last Boy Scout Quotes