Last Chance Harvey
(2009)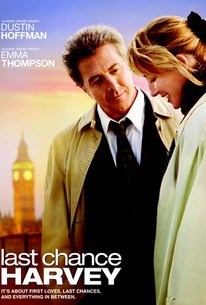 TOMATOMETER
AUDIENCE SCORE
Critic Consensus: Last Chance Harvey is an above-average story that graduates to potent romantic drama based on the chemistry and charm of its top-notch performers.
Last Chance Harvey Photos
Movie Info
New Yorker Harvey Shine is on the verge of losing his dead-end job as a jingle writer. Warned by his boss that he has just one more chance to deliver, Harvey goes to London for a weekend to attend his daughter's wedding but promises to be back on Monday morning to make an important meeting--or else. Harvey arrives in London only to learn his daughter has chosen to have her stepfather walk her down the aisle instead of him. Doing his best to hide his devastation, he leaves the wedding before the reception in hopes of getting to the airport on time, but misses his plane anyway. When he calls his boss to explain, he is fired on the spot. Drowning his sorrows at the airport bar, Harvey strikes up a conversation with Kate, a slightly prickly, 40-something employee of the Office of National Statistics. Kate, whose life is limited to work, the occasional humiliating blind date and endless phone calls from her smothering mother, is touched by Harvey, who finds himself energized by her intelligence and compassion. The growing connection between the pair inspires both as they unexpectedly transform one another's lives.
Critic Reviews for Last Chance Harvey
Audience Reviews for Last Chance Harvey
Two of life's failures, convincingly portrayed by Hoffman and Thompson, collide in London to discover that perhaps they aren't such consummate failures after all. An actor's showcase, the leads are the workhorses that really sell this little intimate film about two people who are at the party but somehow not in it.
Kevin M. Williams
Super Reviewer
½
Last Chance Harvey is a charming, highly predictable, and impeccably acted vehicle for the charisma and chemistry of Hoffman and Thompson. Almost every scene rings truly to life, with a wry and melancholy empathy. A sixty-ish man facing total family and career meltdown, and a fifty-something old maid who has given up on love is NOT promising fare for a wide, multi-generational audience. This film will likely only appeal to viewers who have need of progressive lenses. However, the sunny sincerity and touching human moments make this film work - mostly. Viewers will need to come to the film with modest expectations - it's a comedy with very few laughs (instead it provides mostly wistful smiles), and a romantic film with no sex or even sexual tension. On the negative side, this film feels like it should have ended at the one hour mark when the family is reconciled at the wedding reception. It takes some artificial, convenient plot points like apparent heart attacks to stretch out the last half hour to any kind of complete film experience. This film is worth seeing for the performances of Hoffman and Thompson and the sensitive and well observed 'slice of life' writing. .
Josh Morris
Super Reviewer
I actually thought this was going to be a very light, breezy comedy in the vein of Nancy Meyers, so imagine the disappointment when I find Last Chance Harvey is incredibly uncomfortable. Dustin Hoffman plays Harvey, a loser who's ignored and pushed aside at work and by his family, but he's a loser you can't root for or empathize with since he's so bitter and obnoxious. You even start to wonder if the world is just punishing him for his terrible attitude. But director and writer Joel Hopkins is a clever guy. As soon as Emma Thompson enters the picture (literally), everything changes. The mood's lighter, funnier, warmer. That's certainly a nice touch that mirrors all that Harvey feels upon meeting Kate. Last Chance Harvey also has a fantastic script and two incredible actors in the lead roles. Thompson is such an illuminating presence. I am a little biased, though; she reminds me of my mother. Hoffman's wedding speech is one of the most touching scenes I've seen in a long time. Eileen Atkins and Bronagh Gallagher are great in bit parts that offer comic relief.
Fernando Rafael Quintero Castañeda
Super Reviewer
Last Chance Harvey Quotes