Last Days
(2005)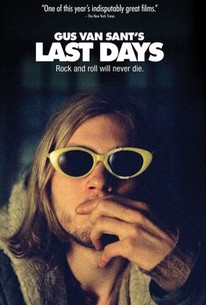 Movie Info
Introspective artist Blake is buckling under the weight of fame, professional obligations and a mounting feeling of isolation. Dwarfed by towering trees, Blake slowly makes his way through dense woods. He scrambles down an embankment to a fresh spring and undresses for a short swim. The next morning he returns to his house, an elegant, if neglected, stone mansion. Many people are looking for Blake -- his friends, his managers and record label, even a private detective -- but he does not want to be found. In the haze of his final hours, Blake will spend most his time by himself. He avoids the people who are living in his house, who approach him only when they want something, be it money or help with a song. He hides from one concerned friend and turns away another. He visits politely with a stranger from the Yellow Pages sales department, and he ducks into an underground rock club. He wanders through the woods and he plays a new song, one last rock and roll blowout. Finally, alone in the greenhouse, Blake will look and listen -- and seek release.
Critic Reviews for Last Days
Audience Reviews for Last Days
If Van Sant's intention was to depict Kurt Cobain's last days as tedious and devoid of meaning as possible, he surely achieved what he wanted, but his biggest presumption was to believe that the viewers would fall for this insufferably boring, self-indulgent joke.
Carlos Magalhães
Super Reviewer
½
This is the final film in Gus Van Sant's so-called "death trilogy", and it's a tough one to sit through. But that could be said about several of his films, so I'm not sure why I'm stating it. Maybe as a disclaimer or something. This is basically a non-narrative, minimalist (plot, dialogue) piece about a burned out, lonely, and mentally isolated rock musician named Blake, and the last few days he spends alive before dying in a very ambiguous manner. The film is only very loosely based upon/inspired by Kurt Cobain, and what his last few days very may have been like. The pacing of this film is extremely slow, and very deliberate, Having a slow pace makes the film seem far longer than 96 minutes and a chore to sit through, and while that is true, it is also a good thing. The audience is forced to sit through the wandering, dull, random and basically pointless activities like laying around, walking around, mumbling to oneself, and doing nothing really in particular. This is a tedious film that's not for everyone, but it was purposefully made this way. It's an indie/arthouse film, not a Michael Bay blockbuster. It's hard to relate to Blake personally, but not his experience and the pain, loneliness, despair he feels. I applaud Van Sant for being bold enough to make this kind of movie just for the sake of making it. For me, the best parts come from the technical end (directing, editing, acting, camera work and music). This is not really that fun or pleasant an experience, but it's one that should be experienced at least once.
Chris Weber
Super Reviewer
½
Van Sant's meditation loosely based on the last days of Kurt Cobain is captivating though in the end there is not much there.
Graham Jones
Super Reviewer
Last Days Quotes
| | |
| --- | --- |
| Blake: | You know, it's kinda like... Success is subjective, you know. It could be an opinion. |
| | |
| --- | --- |
| Blake: | I lost something on my way to wherever i am today... |
| Blake: | I lost something on my way... to... wherever... I am today |
| Blake: | I lost something on my way... to... wherever... I am today. |