Last Days of Disco
(1998)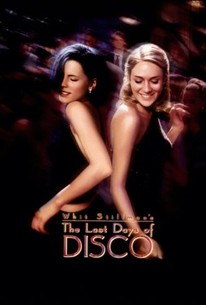 Last Days of Disco Videos
Last Days of Disco Photos
Movie Info
Young Manhattanites boogie-oogie-oogie, in Whit Stillman's Proustian exploration of urban manners, discarded innocence and the onset of modern times.
Critic Reviews for Last Days of Disco
Audience Reviews for Last Days of Disco
Both Whit Stillman movies I've now seen (the other being Damsels in Distress) have produced a similar reaction in me: within the first moments, I find the dialogue completely jarring and think "No one talks like that." Before long, though, I find myself completely wrapped up in it. I preferred this film to Damsels because of its aesthetic and soundtrack--and no, I wouldn't call myself a disco fan--and also because it doesn't end with a meaningless dance scene like Damsels did. Last Days of Disco turns on human relationships that encounter almost insurmountable challenges and that happen to coincide with the doom of the titular musical genre. It aggrandizes a little story, but not in a bad way. Quite worth the watch.
Daniel Perry
Super Reviewer
Whit Stillman's subtle but profound take on the fallacy of indulgent self importance. Don't let the title put you off, The Last Days of Disco is an underrated gem!
Randy Tippy
Super Reviewer
½
In "The Last Days of Disco," Alice(Chloe Sevigny) and Charlotte(Kate Beckinsale) are two comely editorial assistants who are admitted into a trendy club every night on looks alone. Des(Chris Eigeman), a manager at the club, is under pressure not to admit Jimmy(Mackenzie Astin) because he is in advertising and therefore scum. Des also thinks he is gay after watching an episode of Wild Kingdom.(Not "Animal Kingdom" which I'll be reviewing next.) Regardless, Josh(Matt Keeslar, of "The Middleman"), an ADA, thinks the whole scene is cool. At the end of the night, Alice goes home with Tom(Robert Sean Leonard). Writer-director-producer Whit Stillman tries in vain with "The Last Days of Disco" to have something intelligent to say about the transition stage from college to first job, as these characters are in the process of moving on from friends they barely like to spouses they tolerate just enough to not kill them in their sleep. The movie is set in the waning days of disco, a party that was about to end for all.(By the way, we make fun of John Travolta for all the bad movies he has made while Olivia Newton-John is still cool because she has been on "Glee" twice.) I could have tolerated the movie's sour tone if it had not been so excessively talky on every single subject under the sun and there had been more of a plot which sneaks in just under the wire.
Last Days of Disco Quotes
| | |
| --- | --- |
| Des: | I'm not an addict. I'm just a user. |
| | |
| --- | --- |
| Des: | Our bodies weren't designed for group social life. A certain amount of pairing off was always a part of the original plan. |
| | |
| --- | --- |
| Alice: | Do you really think we know each other well enough to room together? |
| Charlotte: | Well maybe that's good. |
| Charlotte: | Well maybe that's good. |
| Alice: | It's not just that we don't know each other well, I'm not really sure we even like each other. |
| Alice: | It's not just that we don't know each other well, I'm not really sure we even like each other. |
| Charlotte: | That's okay. |
| Charlotte: | That's okay. |