The Last Detail
(1973)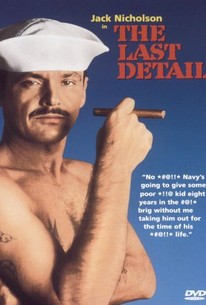 TOMATOMETER
AUDIENCE SCORE
Critic Consensus: Very profane, very funny, very '70s: Director Hal Ashby lets Jack Nicholson and the cast run loose, creating a unique dramedy that's far out to sea.
Movie Info
Two Navy men are ordered to bring a young offender to prison but decide to show him one last good time along the way.
News & Interviews for The Last Detail
Critic Reviews for The Last Detail
Audience Reviews for The Last Detail
Hal Ashby's buddy comedy is ostensibly about two Navy lifers escorting a kid recruit - sentenced to 8 years (!) to the brig - for stealing 40 bucks. Along the long way on the road (yes, a road movie) are bonding moments, fighting escapades, bouts of stupid drinking, a ersatz religious interlude, and a stop at a whorehouse, all drawn against an America that is not quite as advertised. This is a very satisfying road trip movie, the trio an apt fit together, and the social commentary that laces this work is not intrusive or ungainly, is only a compliment to all involved. As well, Jack Nicholson before he became a celeb, back when he was an actor who cared about acting!
Kevin M. Williams
Super Reviewer
Two Navy men escort a hapless kleptomaniac to an unreasonable prison term. Before he was a personality, Jack Nicholson was an actor. In many of his more recent films, Jack has played Jack, the smarmy, over-confident lady-killer with a devilish smile. But before "Jack," Nicholson did films like Carnal Knowledge and One Flew over the Cuckoo's Nest. The Last Detail has a lot of "Jack" moments in which Nicholson gives us his characteristic smarm and bucks authority with abandon, but the scene in which Nicholson's character, Buddussky, talks about a Meadows's milquetoast response to injustice, we see a pit of rage released, and throughout the rest of the film, Buddusky's anger at the world comes to the forefront in all his antics. Yes, he wants to show Meadows a good time before Meadows goes to prison, but mostly, Buddusky wants revenge against the world. In this way, Nicholson creates a real character, not a persona, and what could have been a lame buddy road comedy turns into a decently substantive film. Randy Quaid is quite good in an "aw, shucks" Charlie Brown kind of way, and he even handles the dramatic scenes well. Overall, it's the young Jack Nicholson who makes this film, and viewers of my generation who never got to know him as an actor should check out this classic.
Jim Hunter
Super Reviewer
½
The 1970's is arguably the best decade for classic American films. It produced such quality as "The Godfather parts I & II", "Dog Day Afternoon", "Serpico", "Mean Streets", "Jaws" and "One Flew Over The Cuckoo's Nest", to name a few. It heralded the reputation of the likes of Robert DeNiro, Al Pacino and this film's star Jack Nicholson. This is another, that could be included amongst the greats of that decade. Two career Navy men, "Bad-Ass" Buddusky (Jack Nicholson) and "Mule" Mulhall (Otis Young) are commissioned to escort young kleptomaniac Meadows (Randy Quaid) to the brig for petty theft. En-route, the two lifers realise that young Meadows is actually quite a naive and innocent young man, who hasn't experienced much of life. Before they deliver him to an eight year sentence in prison, they decide to show him a good time and teach him a little of life's pleasures. "...I knew a whore once in Wilmington. She had a glass eye... used to take it out and wink people off for a dollar." Where else can you get a quote like that, delivered in such dead-pan style from the great Jack Nicholson? In fact, for that matter, most of Nicholson's performances deliver at least one choice quote. His career is full of them and few can deliver a line like he can. If you appreciate such moments, then this film delivers plenty of them. It's mainly dialogue driven and character based, providing another classic Nicholson performance. As well as, fine support in Otis Young and a young Randy Quaid. All three of them are an absolute joy to spend time with. The dialogue is razor-sharp from screenwriter Robert Towne (a year before another 70's classic "Chinatown) and director Hal Ashby skilfully combines the comedy and the drama to near perfection. Ashby was a director that consistently delivered superb human drama's throughout his career ("Harold And Maude" and "Coming Home" are a couple of notable ones) but he didn't quite get the plaudits or reputation that his peers received. However, with films of this calibre, his abilities still stand the test of time. Humour and pathos can be a marvellous combination when done right and Ashby certainly does that... he gets it spot on. It may be their 'Last Detail' but I for one, wish it was their first.
Mark Walker
Super Reviewer
The Last Detail Quotes
| | |
| --- | --- |
| Buddusky: | Boy, they really stuck it to ya, didn't they, kid! Stick it in and break it off. Up your giggy with a wah-wah brush, stick it in an' break it off. |
| | |
| --- | --- |
| Buddusky SM I: | about beer: "Best goddam drink in the world". |
| Buddusky SM I: | [about beer] Best goddam drink in the world. |