The Last Emperor
(1987)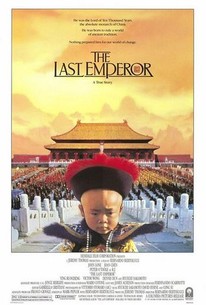 Movie Info
The Last Emperor is the true story of Aisin-Gioro Pu Yi, the last ruler of the Chinese Ching Dynasty. Told in flashback, the film covers the years 1908 to 1967. We first see the three-year-old Pu Yi being installed in the Forbidden City by ruthless, dying dowager Empress Tzu-Hsui (Lisa Lu). Though he'd prefer to lark about like other boys, the infant emperor is cossetted and cajoled into accepting the responsibilities and privileges of his office. In 1912, the young emperor (Tijer Tsou) forced to abdicate when China is declared a republic, is a prisoner in his own palace, "protected" from the outside world. Fascinated by the worldliness of his Scottish tutor (Peter O'Toole), Pu Yi plots an escape from his cocoon by means of marriage. He selects Manchu descendant Wan Jung (Joan Chen), who likewise is anxious to experience the 20th century rather than be locked into the past by tradition. Played as an adult by John Lone, Pu Yi puts into effect several social reforms, and also clears the palace of the corrupt eunuchs who've been shielding him from life. In 1924, an invading warlord expels the denizens of the Forbidden City, allowing Pu Yi to "westernize" himself by embracing popular music and the latest dances as a guest of the Japanese Concession in Tientsin. Six years later, his power all but gone, Pu Yi escapes to Manchuria, where he unwittingly becomes a political pawn for the now-militant Japanese government. Humiliating his faithful wife, Pu Yi falls into bad romantic company, carrying on affairs with a variety of parasitic females. During World War II, the Japanese force Pu Yi to sign a series of documents which endorse their despotic military activities. At war's end, the emperor is taken prisoner by the Russians; while incarcerated, he is forced to fend for himself without servants at his beck and call for the first time. He is finally released in 1959 and displayed publicly as proof of the efficacy of Communist re-education. We last see him in 1967, the year of his death; now employed by the State as a gardener, Pu Yi makes one last visit to the Forbidden City...as a tourist. Bernardo Bertolucci's first film after a six-year self-imposed exile, The Last Emperor was released in two separate versions: the 160-minute theatrical release, and a 4-hour TV miniseries. Lensed on location, the film won nine Academy Awards, including Best Picture and Best Director. ~ Hal Erickson, Rovi
News & Interviews for The Last Emperor
Critic Reviews for The Last Emperor
Audience Reviews for The Last Emperor
½
Endearing. Beautiful. Thoroughly poignant. Why? The music is a wonder, the visuals and production values meaningfully recreated, the atmosphere is wholly emotionally captivating and extremely fascinating, and the drama wonderfully directed. There are a few flaws to be found, admittedly, but as whole, it triumphs in splendor.
Adriel Lim
Super Reviewer
½
Its an okay movie, i can see why it won best picture as it is visually stunning and the costume and makeup artists did a brilliant job! Its interesting to a point about the last emperor however it just failed to engage me, i think over 3.5hours is asking a lot of the audience but to have a movie that is moving at a glacial pace and doesnt have any action and quite frankly isnt the most dramatic movie ive seen before it just left me thinking , 'well ill never get those three hours of my life back' I think a very overrated movie, and not engaging enough for me to rate this movie any higher!
Film Crazy
Super Reviewer
A sweeping historical epic like no other. I sometimes forget how amazing films like this are, especially when they are made in the pre-digital era when you couldn't fake stuff, so you had no choice but to hire 19,000 extras and that sort of thing. Okay, that little diversion aside, this is a tremendous and wonderful film chronicling the life of Pu Yi, the last emporor of China before the tumultuous events that led to experiments with being a republic then a communist state. Covering the years of 1908-1967, this film, despite being a bio pic, is really a great glimpse at the history of a country during some very turbulent but fascinating times. In a way it's like a serious Forrest Gump sort of thing, though I don't mean to trivialize this by making that comparison. I've watched both the original and extended "director's cut" (though Bertolucci maintains that the theatrical cut is his prefered version and that the extended cut was just something he assembled for Italian TV) and I think they are both brilliant films. I think I might like the original more though. The extended cut is an hour longer, making the film clock in at 3 hours, 38 minutes, but some of the added material, like extended backstory are pretty good. The bulk of the additions though, are more political machinations and stuff involving Pu Yi in pre-WWII Manchuria. If you are into socio-political issues during this time and place, then the extended cut will probably please you. If not, then you might just want to stick with the original cut. Regardless of the version, this is a gorgeous film filled with excellent cinematography, beautiful costumes wonderful music (the main title theme will forever be stick in my head), and just great artistry. This is an art film that is both mindblowing because of the technique and storytelling, and the story itself. Pu Yi's life was rather tragic, and not just because of the Shakespearean way his empire crumbled around him. At no time did he ever truly have any real power, and it wasn't until most of his life was over that he was finally living without being told what to do. The scenes of his "re-education" are more painful because for him, it wasn't "re" but just regular education. Yet, from a symbolic standpoint, and for the first few years of his life (before the Chinese Revolution), yeah, he was something special. I know that the Chinese government has a certain reputation about them when it comes to portrayals of the country and its history, so it made me happy to know that when Bertolucci approached them with two projects he wanted to shoot in China, this was the one they chose. It's like they knew that telling this story was important, especially because all parts of a country's history deserve to be known to the masses. Plus, this film made history by getting unprecedented access to film all over the Forbidden City, and the results are just great. Well, I've gushed a lot, but I don't thnk this film is perfect. It is long, and sometimes boring, but I found myself so intrigued and moved that I can't really hold any ill will towards it. It was nominated for like 9 Oscars and won them all, and they were definitely deserved. You should definitely give this one a watch. It's quite something.
Chris Weber
Super Reviewer
The Last Emperor Quotes
| | |
| --- | --- |
| Pu Yi (3 years): | Cricket! |
| | |
| --- | --- |
| Reginald Johnston "R.J.": | Words are important. If you cannot say what you mean, Your Majesty, you will never mean what you say; and, a gentleman should always mean what he says. |
| Reginald Johnston "R.J.": | Words are important. |
| Pu Yi (15 years): | Why are words important? |
| Reginald Johnston "R.J.": | If you cannot say what you mean, your majesty, you will never mean what you say and a gentleman should always mean what he says. |